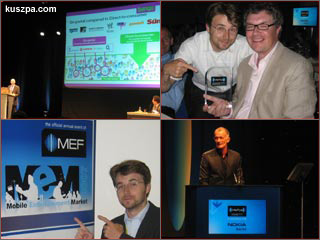 Me at MeM, lecture of Martin (bango), Russell with the MEF Award and the host Ray Cokes.
It was time for me to visit for the first time the Mobile Entertainment Market (MEM) – the official annual event of the Mobile Entertainment Forum (MEF). This year the MEM was arranged in the Grimaldi Forum in Monte Carlo. I was especially interested in the topics "Mobile Communities & User Generated Content", "Going Direct to Consumer with Off-Deck Services", "Creatively Promoting Content so Consumers can Easily Discover it" and "Promotional Strategies".
In the evening I visit the Meffys Gala Dinner & Awards Ceremony in the Fairmont Hotel in Monte Carlo. We had an invitation to join the admob table, which I shared together with Russell (admob), Ivanka (admob), Marcus (Peperoni), Jim (MobiAdNews), Jack (AMV, Blue Stream Mobile), Dan (AMV, Blue Stream Mobile), Hervé (abphone.com) and Sabine, (gofresh, my favorite copycat). I had a great chat with Jim about the development of the mobile ad market, but it was also interesting to hear about the challenges of Blue Stream Mobile. And the big surprise was admob wining 'The Innovative Business Model Award'! Read about the unforgettable impressions on Russells blog :o)
The winners of the Meffys Mobile Entertainment Awards 2007 in association with NOKIA Nseries were:
All in all it the Mobile Entertainment Market is a great event for networking, but I was a little bite disappointed that some of the announced speakers mist, like Joanna Shields (President International, bebo) or Graham Thomas (Head of Data Product Marketing, T-Mobile), and that there were not so many exhibitors in place. You can read about similar impressions on GoMo News and KAsiUNblog. Update: And Helen is running a small survey "Thoughts on MEM/Global Messaging 2007" on her blog.