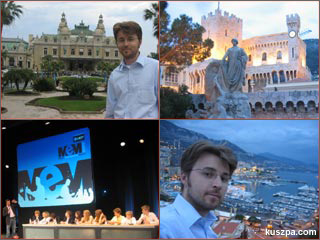 MeM Consumer Panel, me at the Casino der Monte-Carlo, Palais Princier and me at Port Hercule.
The highlight on the second day of the Mobile Entertainment Market was definitely the Consumer Panel in Track Two "Creatively Promoting Content so Consumers can Easily Discover it" with eleven youth from Libya, Texas/USA, London/UK, Netherlands, Australia, Germany, Finland and Serbia. Together with Eden Zoller (from Ovum) they discuss about their experiences with mobile phones. Beside texting and calling thier favourite applications on mobile phones are photograph (because the mobile is always with them and their digi cam not, but nobody uses MMS because all of them (!) didn't managed to configure the MMS settings), games (many of them play during class :o) and music (but almost nobody download music with costs on WAP, they all surf the web on their PC for free music and transfer the songs to their mobile phones through USB or bluetooth. And everyone wants to buy the iPhone!) There where also two good news for the business community:
All of them is willing to consume ads for free services and downloads.
Later on at the conference I also met for the first time face to face with Terry from admoda.com. We are already working with admoda.com / mobvision.com, but it was great to exchange some thoughts on new ways of cooperation.
In the afternoons I was running around Monaco. Starting from the Grimaldi Forum Monaco I went through the Circuit de Monaco of the Monaco Grand Prix, the Port Hercule to the point of the Palais Princier to also enjoy the view of Port de Fontvieille. I also saw the Casino der Monte-Carlo – is a quite impressive building outside and inside! In the evening Marcus tried his luck playing the slot machines, but unfortunately it wasn't his night that time :o)
Our day ended first at the bar in the Hotel Fairmont Monte-Carlo with an interesting chat with Helen from BeepMarketing Ltd (her blog is technokitten.com) and then in "The Living Room" with some tasty non alcoholic cocktails :o)