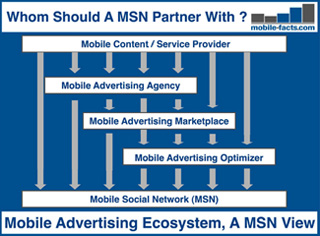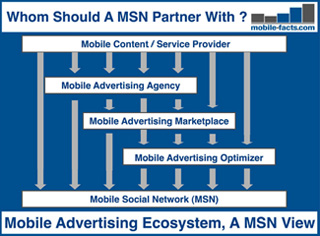 The Mobile Advertising Ecosystem
There are several business models for Mobile Social Networks (MSN). Asking users to pay for either community membership or for premium content like virtual goods are two examples. Lately, a few players have been experimenting with different premium models. Nevertheless, it seems to me that our market segment still favours the advertising-based business model.
When thinking about whom to choose as a partner I drew the diagram you see above to visualise which partners and options MSN currently have. In my view mobile social networks now have four different groups of potential advertising partners. In more detail, if you consider the various possible combinations for cooperations between partners, the money we look at can go through 7 different ways through the value chain) as the diagram illustrates. These four groups of partners are:
It should be mentioned that there is a even more complexity in the value chain. For example some mobile social networks like buzzcity.com offer their own mobile advertising networks. And you also can't preclude that the mobile advertising optimisers integrate each other. So how does one choose as a mobile social network the right part of this value chain to work with? We don't really know yet who in the value chain will survive in the long term because the mobile advertising business is still young. We know mobile advertising networks since 2006 (admob.com started in 2006) and mobile advertising optimisers since last year (smaato.de started with SOMA in 2008). Google introduced Adsense for mobile search just the other day. I am sure that we will also see another big movement in the industry when the first mobile ads appear on Facebook Mobile and MySpace Mobile's efforts increase in this regard. Facebook has got no ads yet, but just imagine the additional amount of mobile advertising inventory from '20 Million Users Now Accessing Facebook Through Mobile Platforms'.
To me as MSN one must broadly consider of a trade-off between money (content providers, agencies) vs security (optimizers). The best business option for a mobile social network depends much on which strategy in general they pursue. If you go for the big money, you go directly to the content / service providers or/and advertising agency and accept the high business efforts and the risk depending on few big customers. If you aim for more secureness and less work, but at the worst also less money for your inventory, than you go for the mobile advertising marketplaces and optimizers.
 
But at the end, how to chose the right business partners for the corresponding cooperation? For an informed decision you need some criteria; I can think of a set of 14 criteria to bear in mind when selecting one. Firstly we can have a look on basic facts about the potential business friends like company age, references, team and investors. Some operating figures like the market coverage, achieved average fill rate and achieved average eCPM are also of interest. Than we should consider the business aspects like revenue share, contract duration, contractual specials and payment target / reliability. And of course don't forget the technical issues like integration efforts, performance / scalability and support quality. But at the end it's all about individual experience with specific business partners, because mostly you have to deal with young players in our turbulent industrial sector.
 
For peperonity.com we have found our strategy and good business partners. Understandably I can't tell you the details, but I am open for discussion about the mobile advertising ecosystem from the perspective of MSN or a publisher in general. Our mobile industry is just vibrant and full of surprises :o)
(Note: This is my contribution for the 'FACTS OF THE WEEK NO 1' at www.mobile-facts.com)