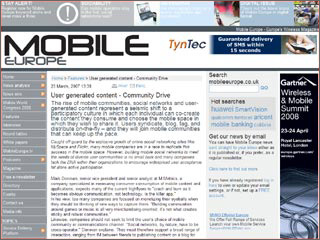 Source: Peggy Anne Salz: User Generated Content – Community Drive, in: Mobile Europe, 23.03.2007
Today a interesting article from Peggy Anne Salz with the headline "User Generated Content – Community Drive" was published and Marcus was quoted:
"Social media companies are getting the message. Peperoni, Germany's made-for-mobile answer to MySpace, counts more than 350,000 registered users and another 6 million unique visitors per month who frequent the community to check out new sites and fresh content. In fact, Marcus Ladwig, COO of Peperoni, estimates the actual figures could be higher. This is because Peperoni only requires active participants to register and allows all visitors to browse for free.
Access to so many eyeballs has also excited content companies – who want to advertise to Peperoni's tight-knit peperonity mobile community. To date Peperoni has run campaigns with several major brands, including Adidas and Disney. More recently, the company has launched a campaign with 4th Screen Media, a U.K.-based mobile advertising company with "some major brands in the pipeline," Ladwig says. Member survey shows users don't mind the advertising, provided it is useful and unobtrusive. "In the right context ads even benefit the community," Ladwig explains. The current campaign with mobile operator O2 in the U.K. – which revolves around giving away free SIM cards, is a pitch that "provides real value for users."
To keep the momentum Peperoni plans a slew of new functions and features. These include tools to upload mobile videoclips, moderation (to keep in touch with members and give them a feeling that "someone is looking after their home space") and a "send-to-a-friend feature (to allow users to update friends on community happenings and even recruit new members). The company is also developing a "recommend-this-site" service that will allow users to share cool content they find on peperonity with their friends via SMS. "Peperoni will pick up the costs of this service because we believe in the potential of this to promote viral marketing," Ladwig says.
Monetization models at the site go in both directions. Peperoni sells ads to deliver services to its members – but it also offers its members an eBay-like marketplace where they can sell their user-generated content. To this end Peperoni has teamed up with Bango, a company that has developed a global infrastructure platform that enables content providers to market, sell and deliver their products and services directly to mobile phone users on all mobile networks. The collaboration allows members to commercialize their content, enabled by Bango's global access and payment technology."