Olivia Hilton on mobile chat in interview with inbabble.com
Hey! Today I saw an interesting interview on inbabble.com with Olivia Hilton (Jumbuck) on mobile chat and I just couldn't resist to smile on this text passage:
A fast thinker, Olivia Hilton isn't afraid to make honest statements about her mobile dating competition, such as Mobiflirt ("Mobiflirt is a game") and peperonity ("…the content is not validated – lots of naked women, gambling, etc.")
Honest statements? For me it's more like mocking – maybe because of fear of good competition 😉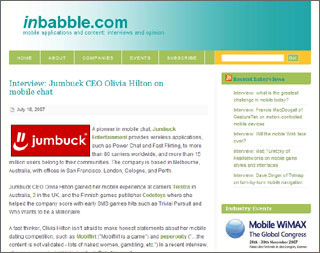 Dear Olivia, it would be a pleasure for me to meet you and have a chance to explain to you that we are not really a mobile dating service. But I'm flattered to be competition in your eyes!