Archive for Peperoni
You are browsing the archives of Peperoni.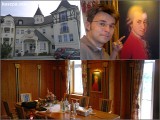 Tagungsraum, Hotel und zusammen mit Mozart 14 Jahre Unternehmertum Dieses Jahr ist das Gründerteam der Peperoni Software GmbH zum Schlosshotel Holzrichter in Veserde-Wiblingwerde gefahren, um dort abseits des Alltags zu tagen. Wie es sich in einem anständigen Management Workshop gehört, haben wir den Schwerpunkt der Tagung auf das strategische Management mit allen drum und dran gelegt; […]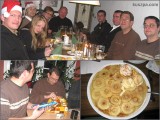 Geschenke auspacken, Weihnachstessen und Apfel-Pfannkuchen. Hof Schulte Saldenberg – Alles aus der Pfanne Nach einer Runde Stollen, Glühwein und Wichteln im Peperoni-Büro, sind wir (Andree, Codruta, Kai, Maciej, Marcus, Oliver, Peter, Sandra, Thomas B. und Thomas P.) anschließend zum Pfannkuchenhof in Witten-Herbede gefahren, um dort ein leckeres Weihnachstessen zu genießen. Ich hatte einen ganz schön mächtigen […]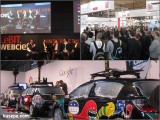 Google Street View Autos, webciety Diskussion und Live-Hacking am Stand. Webciety – Treffpunkt für das Internet Business auf der CeBIT Heute habe ich mir auf der CeBIT die Hallen 6 (Internet & Mobile Solutions), 7 (CeBIT Destination ITS) und 8 (CeBIT Green IT & TeleHealth/eHealth) angeschaut. Interessant war vor allem die Bemühungen von Google ihren Dienst […]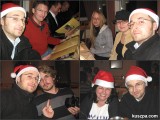 Matthias, Thomas, Kai, Frank, Sandra, Codruta, Broni and me. Dinner with my peperoni team My third christmas party this year was together with my team mates from Peperoni. After doing a secret Santa at the office we went for a nice dinner at the Restaurant International.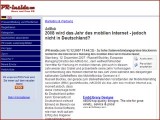 Source: PR-inside.com, 12.12.2007, 11:44:32  […]  Russell Buckley, der gerade zum stellvertretenden Vorsitzenden der Mobile Marketing Association (MMA) gewählt wurde, ruft 2008 als das Jahr des mobilen Internet aus, moniert jedoch, dass diese Vorhersage nicht für Deutschland gelten kann: 'Einerseits ist Deutschland weltweit führend im Bereich von Mobile Social Software, wie man recht gut am Erfolg […]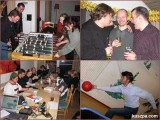 Working, playing, celebrating and bowling :o) Every year our team goes for a 'bigger' workshop where we use to have different sessions and lectures dealing with the work at Peperoni. This time we went for 4 days to CenterParcs Hochsauerland. But beside the work we also had a good opportunity to celebrate and just have […]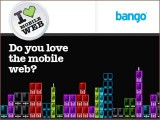 Peperoni is supporting the bango campaign "I love mobile web" :o) 'Mobile internet for everybody' is the vision and mission of Peperoni since 2000, because we always loved the mobile web :o) We are pleased to support this campaign with our mobile UGC services for all enthusiastic users worldwide who wants to discover the boundless […]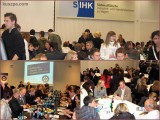 Meeting planning and different consulting talks. Talks about apprenticeship in SIHK Hagen In the evening I attend a roadshow for school leavers about apprenticeship, career and studies as an experienced adviser from Peperoni. I was honored to be invited by the Rotary Club Hagen to this event, which took place in our Chamber of Industry […]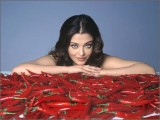 Famousness meets beauteousness, but who is who :o)  The internet is evil, the internet is good and the internet is a fantastic treasure trove. Today we discovered the famous and gorgeous Aishwarya Rai [ ऐश्वर्या राय – wordpress.com can handle hindi letters :o] with some lovely red peperonis. She was Miss World back in 1994 and […]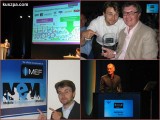 Me at MeM, lecture of Martin (bango), Russell with the MEF Award and the host Ray Cokes. It was time for me to visit for the first time the Mobile Entertainment Market (MEM) – the official annual event of the Mobile Entertainment Forum (MEF). This year the MEM was arranged in the Grimaldi Forum in Monte Carlo. […]