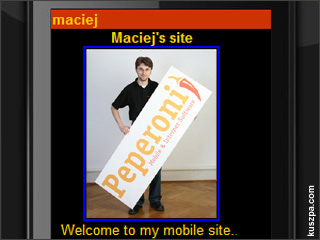 http://maciej.peperonity.com
Maciej's site on peperonity.com
Some days ago I updated my mobile site on peperonity.com. I have posted some comments on my team mates, our headquarters and my work and uploaded some pics. So have a look – more to come :o)
And here are some fan e-mails from around the world:
The Vampire Princess wrote on February 7, 2009: great job!! :o)
 
Katherine Kisebakalis wrote on February 6, 2009: Sir. I Have The Pleasure Of Being A Member Of The Community of Peperonity. MY compliments To You FOR your kind An Considerate Staff in the way they Have Addressed My Problems I Have Presented To Them. Iam Very Impressed By The Ease An Support Your Entire Staff extends to us.
 
Sweet Dark (IN) wrote on December 7, 2008: Thank you for creating the greatest community in the history of wap and if u ask me, the internet itself!! No one will ever top peperonity! Truely! I'm an extremely grateful to you and your staff! O x
 
Nakshatra (IN) wrote on August 14, 2008: Thank u so much for accept my friendship. Thank u for giving us such a beautiful mobile world, where each one can creat their own world.