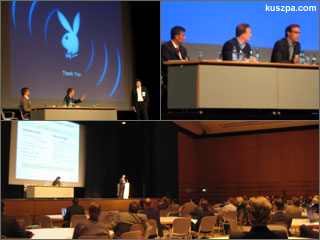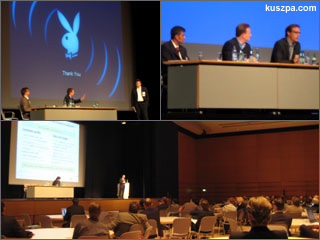 The mobile internet summit, playboy presentation and panel discussion.
How to Profit from the Next Generation of the Internet
Today I run into the Mobile Internet World Europe Summit in Munich. I wasn't sure if the topics would be interesting for me, but already the start was juicy; Declan Lonergan from Yankee Group showing the top 10 of the most used mobile sites on the Vodafone UK network: 1. facebook, 2. Google, 3. BBC, 4. MSN, 5. Bebo, 6. Sony Ericsson, 7. Yahoo, 8. myspace, 9. Hotmail and 10. Youtube. And in some other forecasts and figures I found confirmation for my own thoughts on changes in the mobile ecosystem. But also Sven Bolthausen, Head of Multimedia Germany, Ericsson, attested to some trends in his lecture 'Driving Mobile Internet Adoption' on do's and don'ts in the mobile eco system.
Beside meeting some business contacts like Petra Maertens (Jamba), Wandrille Pruvot (Buzzcity) and Christian Georg (Ericsson), I today also found out, that I am an Upwardly Mobile; They are familiar and comfortable with Web 2.0 tools like wikis and blogs as well – Yankee Test told me :o)
Mobile Internet World Europe Summit Agenda:
Keynotes and General Sessions
Mobile Internet Utopia – Can the Mobile Industry Satisfy Demand?
Berge Ayvazian, Chief Strategy Officer, Yankee Group
Declan Lonergan, VP of Consumer Research, Yankee Group
 
Access to the World of Music—Anytime, Anywhere: PC, Mobile, Living room
Thorsten Schliesche, VP Sales & Marketing Europe and GM & VP Germany, Napster
 
Creating a Superior Multimedia Experience
Sven Bolthausen, Head of Multimedia Germany, Ericsson
 
Driving Mobile Internet Adoption
Olaf Swantee, Senior Executive Vice President, Orange
 
Luncheon Keynote: Best Internet Experience in Your Pocket
Pankaj Kedia, Director Global Ecosystems Ultra Mobility Group, Intel Corporation
Mobile Internet Business Models
Track Leaders: Declan Lonergan and Anette Schaefer
4G Mobile Internet Technologies
Track Leaders: Philip Marshall and Caroline Gabriel
LTE and Mobile WiMAX: The Race to Mobilize the Internet
Philip Marshall, Yankee Group (moderator)
Herns Pierre-Jerome, Director – Project Management, Qualcomm
Hans Höglund, Director, Government and Industry Relations, Ericsson
Andy McKinnon, WiMAX Principal, Motorola Home & Networks Mobility, Motorola; Chairman, GDC Ecosystem Partners Subcommittee
 
Enabling Mobile Internet Devices and Consumer Electronics
Caroline Gabriel, Rethink Research (moderator)
Victor Donselaar, President, Movial Applications, Inc.
Jon Jädersten, EMEA Marketing Manager – Ultra Mobility Group, Intel Corporation
Bryce Johnstone, Strategic Marketing Manager- Wireless Business Unit, Texas Instruments
Chris Kenyon, Business Development Manager, Canonical
 
Open Mobile Devices and Platforms
Kevin Holley, Vice-Chair, Technical Plenary, Chair, Requirements Working Group, OMA
 
Mobile Web Development
Caroline Gabriel, Rethink Research (moderator)
Tommy Ahlers, CEO & Co-Founder, ZYB
Michael Neidhoefer, CEO, Netbiscuits
Troy Norcross, Business Development Manager, Publishers & Partnerships, Nokia Media Network
Mobilizing the Enterprise
Track Leaders: Nick Spencer and Berge Ayvazian