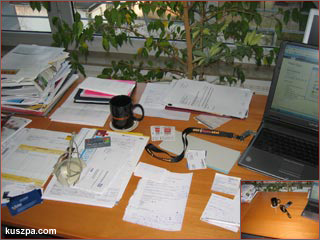 My desk before and after some work at home.
Today I finally found some time to execute some paper work and clean up my desk at home. Because of my travelling in the last days I had tons of letters, articles, advertisement, bills and other stuff on my desk. Afterwards only a deck of Mobile Learning documents remain, but in the next days I will have this work done too and transfer our project site www.mobile-education.com into an blog.
On the weekend my blog reached over 1,000 views (since the beginning of this year). The best day had 70 views. It is amazing how many people already found my blog even if I didn't make any advertising for it and I did tell about it only to four people. But some of my business friends (e.g. Christian and Wolfgang :o) accidentally found it by searching the web for other stuff. WordPress.com offers some funny analysis, so e.g. I can see that certain visitors came by because of their queries like "cebit girls", "freenet party" or even "photo peperoni dancing".
We will see what is going to happen in the next days… On Friday I will present my blog to the peperoni team. I hope they like it and I can satisfy their thirst for information particularly about my travels a little :o)