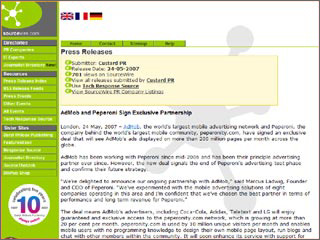 London/Hagen, 22 May, 2007 – AdMob, the world's largest mobile advertising network and Peperoni, the company behind the world's largest mobile community, peperonity.com, have signed an exclusive deal that will see AdMob's ads displayed on more than 200 million pages per month across the globe. AdMob has been working with Peperoni since mid-2006 and has been their principle advertising partner ever since. However, the new deal signals the end of Peperoni's advertising test phase and confirms their future strategy.   
  
"We're delighted to announce our ongoing partnership with AdMob," said Marcus Ladwig, Founder and COO of Peperoni. "We've experimented with the mobile advertising solutions of eight companies operating in this area and I'm confident that we've chosen the best partner in terms of performance and long term revenue for Peperoni."
The deal means AdMob's advertisers, including Coca-Cola, Adidas, Teletext and LG will enjoy guaranteed and exclusive access to the peperonity.com network. peperonity.com is used by 10 million unique visitors per month and enables mobile users with no programming knowledge to design their own mobile page layout, run blogs and chat with other members within the community.  It will soon enhance its service with support for 'buddy lists' and full video streaming.
Russell Buckley, European Managing Director, AdMob, said: "AdMob is already the largest mobile advertising network in the world, serving more than one billion ads every quarter. We're really pleased with this partnership as it brings our advertisers exclusive access to one of the largest mobile communities around."
AdMob's network now consists of more than 1,700 publishers of mobile web sites running AdMob advertising campaigns on a revenue share basis. Becoming a publisher is a quick and easy process involving cutting and pasting automatically generated code available at http://www.admob.com/ into web site templates.
About Peperoni
The mobile community and its network of mobile sites are the world's leading platform for end-user oriented mobile site building and social networking. Their services are used by almost 10 million monthly unique visitors. peperonity.com sees approximately 300 million mobile page impressions monthly across all platforms. The databases are partly shared so that each new customer joining the network may benefit from more than 500,000 already active sites. There are more than 2.5 million content pages available for viewing, all of which are moderated according to the customers' needs. Peperoni works with a number of European major operators including O2, T-Mobile, KPN and TIM. Peperoni was founded in 2001, is privately held and based in Hagen, Germany.
About AdMob
AdMob is the world's largest mobile advertising marketplace. Founded in 2006, AdMob allows advertisers to reach their customers on the mobile web and publishers to increase the value of their mobile sites. AdMob offers both advertisers and publishers the ability to target and personalise advertising to their customers in 126 countries. AdMob's customers include eBay and Nokia. In September 2006, AdMob received funding from Sequoia Capital, a venture capital firm behind companies such as Yahoo, Google and YouTube.  In March 2007, the company closed $15 million in venture capital funding. The Series B financing round was led by Accel Partners, with previous investor Sequoia Capital participating as well.
On the Web: