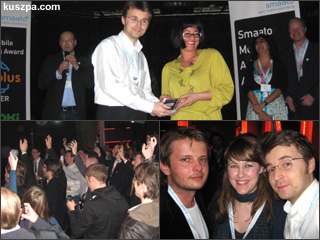 Tweetup, getting the smaato award and the winners.
Smaato Mobile Advertising Award Ceremony
Another busy day at the Mobile World Congress with some interesting talks with some great people from especially the mobile advertisement industry like Fabio Pezzotti (mobango), Sarah McCluskey (4th-screen), Peter Bewsher (funkysexycool) and Jonathan MacDonald (OgilvyOne). In the evening I joined the Smaato Party named Mobile Media TweetUp in collaboration with SIMYO and MOCOM 2020. After some short presentations and drinks we enjoyed the award ceremony. Surprise, surprise… we also got an award this time. Michelle Sklar (bnetTV) gave me the award and here is my statement for the documentation :o)
"As a finalist of the Smaato Award we are very proud that we were able to convince the jury with all the skills we offer with our mobile social network called peperonity.com. For us it is a confirmation that we are on the right way in an exciting and vibrant market and a big incentive to push the development in the mobile industry."
I finished off the evening with a spontaneous dinner and a great chat in the middle of the night with Ragnar Kruse and Petra Vorsteher (smaato).  There is also a 'Review of the Mobile Media TweetUp 2009' by Monty Metzger.