Infinitely trapped in the net with web 2.0
What happens with all of your social media profiles after you have left the real world? Today I heard by accident through a mutual contact that one of my over 700 business contacts at xing.com is already dead since almost two years now I didn't check this information directly at his family and I don't want to publish untruths, but my deepest sympathies for the passing of Peter Trauth. I met him back in 2006 at the Learntec and I was a little bit surprised that he didn't respond to my invitations to the Mobile Learning Day 2009, but now I understand. His company 5mo Group AG seems to be deleted and also his domain 5mo.ch and his email don't work anymore, but his xing-profile was still online.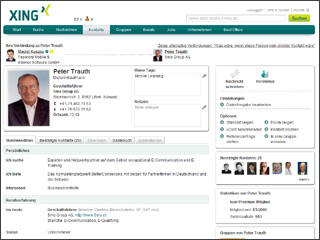 This incidence makes somehow thought-provoking. What will happen with my content in internet after I have passed away? Will my friends and contents even notice that I am gone? Or will some social media services continue to use my data for business proposes? I mean they can still use my identity to automatically poke other users and send them birthday greetings from my and in this way use my content draw on other people to their services. I suppose even as a nominal member I am still valuable for the social media services; no investor will check if I am alive, but will be happy about one more user in the database. So many questions to answer and the time is running out. It feels a little uncomfortable to use services like mywonderfullife.com and to "plan your funeral, your way". I think I will keep this blog as my virtual gravesite, but how to hand on all of my social networking profiles to my bequests?