Mobile Social Software and Meta Mobile Social
The Mobile Monday Chapter Düsseldorf invited us to or another very interesting evening about "Mobile Social Software and Meta Mobile Social". After a short intro by the Master of Ceremony Ossi Urchs (F.F.T. MedienAgentur) and Oliver Lauer (Wincor Nixdorf prosystems IT) Sarik Weber (cellity AG) started with the first presentation on "Mobile Social Networking". He gave us an overview over different services, like e.g. peperonity.com, and then he spoke about the Evolution of cellity's Mobile Service; from 'least cost router' to 'Communicator' to 'cellity addressbook 2.0'. Sarik didn't only illustrate their new product, but he also gave us an outlook on the 'cellity addressbook 3.0' with more Instant Messaging, Location based Services, Connection to Social Networks, Social feeds and much more. But the main focus of his lecture was on the use of twitter.com by enterprises. There are some considerable advantages for using twitter; access to a very active community, instant feedback, perfect for branding, a great traffic channel and good for SEO.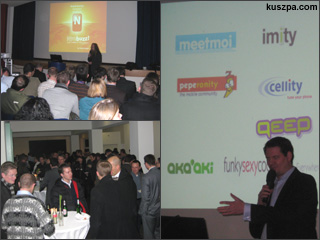 Christian Schulte (BLUE LION mobile GmbH) spoke about their Mobile Social Network for communication and entertainment called qeep. They started with a client-based solution, but pushed a mobile browser version at the end of 2008 – today they have around 1 mio. users generating around 160 mio. page impressions monthly worldwide. At the moment the main traffic is allegedly coming from South Africa (25%), United Kingdom (23%) and Indonesia (18%). I also liked Christian's thoughts on the 'Application- dilemma' with some Pros and Cons for Mobile Browser Solution vs. Java Application. Afterwards I also asked about the main traffic driver in their four service sections; Chat & Messaging, photo blogging, push tones (a flirt feature) and multiplayer gaming. Interestingly it is the Messaging part, but still blogging and gaming are a important base for the communication between the users.
At the end Tobias Kemper (nimbuzz B.V.) told us about his product called nimbuzz which is an all-in-one communication tool. They try to solve the consumer problem having too many applications for potentially the same purpose. As a user of several different social networks and communication channels I can totally understand the everyday challenge to handle your 'virtual life' efficiently. nimbuzz suggest 'interoperability' as the solution – one tool to the virtual world. Tobias also brought the revenue-sharing partnerships with e.g. StudiVZ and Spice Mobiles up, which seems to be a very interesting business model for them. You can find the whole nimbuzz presentation at slideshare.net.
Unfortunately the presentation by Gerion Wolff (Materna GmbH) was canceled, but so we had more time for the networking afterwards. I had a great chat with Cornelius Rost (BLUE LION mobile GmbH) about their social network qeep – they are facing similar challenges as we did/do 🙂
You can find more Impressions on this Mobile Monday about "Mobile Social Software and Meta Mobile Social" at the 'mobinauten Blog'.