Archive for Sandra Frielingsdorf
You are browsing the archives of Sandra Frielingsdorf.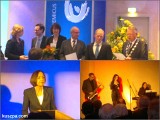 Prof. Dr. Margret Wintermantel, Überreichung der Förderpreise und musikalisches Intermezzo. Festakt mit Ehrung der besten Studierenden Nach der Eröffnung und Begrüßung durch den Rektor Prof. Dr.-Ing. Helmut Hoyer hielt Frau Sandra Frielingsdorf das Grußwort des AStA. Prof. Dr. Margret Wintermantel, Präsidentin der Hochschulrektorenkonferenz, sprach anschließend in ihrem Vortrag über die 'Perspektiven der Hochschulen in der […]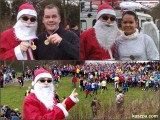 Me (truly) and the crowd, together with Oliver and Santa Claus meets Angel. 26. Nikolauslauf by Ruderclub Westfalen Herdecke Today I took part at the 26th Santa Claus Run (Nikolauslauf) hosted by the Rowing Club Westfalen Herdecke. Every year they organise this fun run around our lake called Hengsteysee with the length of 9,6 km. Together […]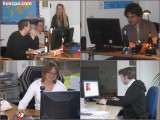 Anna, Thomas, Andree, Sandra, Matthias and me at rating work. Proactive Moderation is Key for Community Growth Of course it's hard work and a big issue for all community services, but spending some hours with moderating your community is also always a great possibility to stick around your user base. On the one hand you will see […]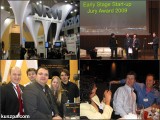 Our MWC team (Max, me, Marcus, Sandra and Matthias), our booth, MoMo Peer Awards and MoMo Dinner (Bena, Jakob and David). A very busy Mobile World Congress 2009 The first day at the Mobile World Congress in Barcelona was quite busy, but luckily I had a motivated team with me and the booth organisation was […]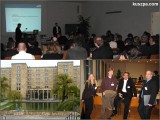 University of Frankfurt, lecture and meeting avinotec. MoMo – Mobile Marketing and Advertising Diesmal war ich mit Marcus Ladwig und Sandra Frielingsdorf (Peperoni) sowie Dr. Michael Stepping und Richard Sotke (avinotec) auf dem Mobile Monday zum Thema "Exercise in Mobile Marketing and Advertising" in Frankfurt unterwegs.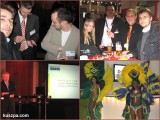 August-Wilhelm Scheer, Gabriel from aka-aki, Peperoni mates and the Olá Brasil party :o) Trade show and Innovators' Pitch And like every year CeBIT is coming and again we are going to Hanover. Before runing around in all of the exhibition halls, I went to the 'Innovators' Pitch Business' organized by BITKOM e.V. This event helps young companies to find venture […]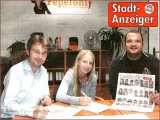 Me, Sandra and Marcus (Photo by Stephan Faber, Stadtanzeiger Hagen) Source: Stadtanzeiger Hagen, Stephan Faber, 65/2007, 15.08.2007, p. 1 Today a local newspaper called Stadtanzeiger Hagen wrote about our new apprentice Sandra, because some days ago we participated in their campaign "last minute apprenticeship training position". It was a great campaign to help school leavers to […]