Archive for Mobile Monday
You are browsing the archives of Mobile Monday.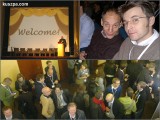 Begrüßung von Christoph, Daniel und ich, Networkig in den Pausen. 10 Jahre MoMo Global und 5 Jahre MoMo Deutschland Es ist immer eine große Freude zu den Mobile Monday National Summits zu fahren – nicht nur wegen dem immer umfangreichen Programm, sondern auch wegen den vielen Besuchern. So waren bei der diesjährigen Veranstaltung wohl über […]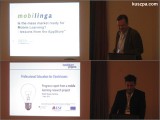 Vorträge von Matthias Kose (oben) und Karsten Meier. How to create "mobile only" elearning services? Zum ersten Mal wurde heute Abend das Thema "Mobile Learning" im Rahmen eines Mobile Monday behandelt. Es hat mich sehr gefreut, dass Axel Hoehnke (MoMo Hamburg) meine Anregung vor einiger Zeit aufgriff und die heutige Veranstaltung im Business Club Hamburg […]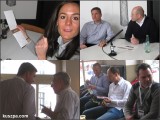 Fee, Axel und Harald beim Roundtable sowie Gäste auf dem MoMo. MobileMonday – Social Hype or Business? Die Woche startet für mich mit einer Reise nach Berlin, wo ich zuerst an einem "Mobile Advertising Roundtable" von Smaato in der Gaststätte St. Oberholz teilgenommen habe. Die Idee dieser Diskussionsrunde ist der Austausch zu den aktuellen und […]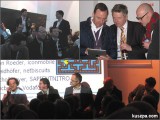 Podium, Zuhörerfragen und das neue iPad sorgt für Aufregung. Mobile App eats Mobile Web Der heutige Mobile Monday in Düsseldorf hört sich mit dem Titel "Mobile Apps eats Mobile Web" hört sich nicht nur spannend, sondern auch ein wenig bedrohlich an, da wir bei Peperoni doch schon seit über zehn Jahre mit unseren browser-basierten Lösungen […]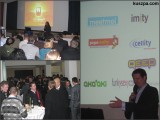 Networking, Moderation by Ossi Urchs and the lecture of Sarik Weber. Mobile Social Software and Meta Mobile Social The Mobile Monday Chapter Düsseldorf invited us to or another very interesting evening about "Mobile Social Software and Meta Mobile Social". After a short intro by the Master of Ceremony Ossi Urchs (F.F.T. MedienAgentur) and Oliver Lauer (Wincor […]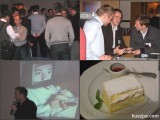 Lecture, Networking, Product Demo and tasty cheesecake. My first Mobile Monday Warsaw The 2nd Mobile Monday Poland was in the conference room above the Cwaniak Warszawski in Warsaw and I was invited as a "featured guest" – whatsoever it means… But I must admit that I was very amazed about the great atmosphere with over 100 visitors, […]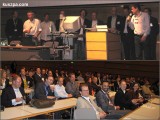 The audience and the 9 demo show companies.  Mobile Monday Demo Night in Munich It was my first MobileMonday DEMO NIGHT, so I was quite curious what we can expect from the MoMo team Munich this time. At this event 9 companies got the chance to present their product, service or technology in a 5 […]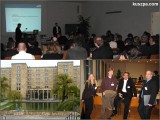 University of Frankfurt, lecture and meeting avinotec. MoMo – Mobile Marketing and Advertising Diesmal war ich mit Marcus Ladwig und Sandra Frielingsdorf (Peperoni) sowie Dr. Michael Stepping und Richard Sotke (avinotec) auf dem Mobile Monday zum Thema "Exercise in Mobile Marketing and Advertising" in Frankfurt unterwegs.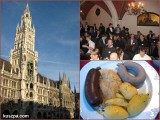 Neues Rathaus Munich, MoMo guests and Bavarian food. MoMo – OPEN Portals, Platforms, Communities Before the MoMo I just couldn't resist to go for some tasty Bavarian food. So I went to the 'Zum Spöckmeier' – close to the Marienplatz – for a great plate with liver sausage, blood sausage and Bavarian veal sausage. Yummy :o) On […]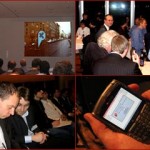 Daniel showing me international hotornot service, plazes.com lecture, networking and one not working mobile service… Mobile Monday on Social Media Today we went to the 2nd Mobile Monday in Düsseldorf (Ernst & Young building with a marvelous view on the Rhine. Business and Networking as usual, but also promising lectures about Mobile Social Software. The speech […]