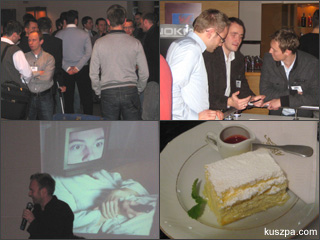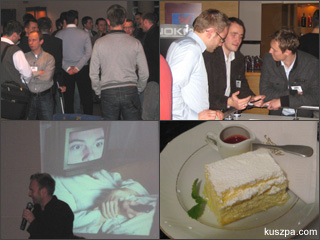 Lecture, Networking, Product Demo and tasty cheesecake.
My first Mobile Monday Warsaw
The 2nd Mobile Monday Poland was in the conference room above the Cwaniak Warszawski in Warsaw and I was invited as a "featured guest" – whatsoever it means… But I must admit that I was very amazed about the great atmosphere with over 100 visitors, interesting presentations, small Nokia booth (with Nokia 5800) and a rich buffet and free drinks. The 1st lecture was hold by Jarkko Tolvi who spoke about the Forum Nokia and the morph concept (in cooperation with the University of Cambridge) about future cell phone with nanotechnology. Maks Giordano made the second presentation with examples of their work like myvideo.de, Germany's Next Topmodel or Hot Shots with FHM and some co-operations with o2 and Vodafone. I liked his comment "It kills us that we don't have enough flat rates for mobile data usage in Germany". The last lecture was by Michal Hobot (here are his thoughts about this event) who spoke about difference between TV on Mobile and Mobile TV. Later on I also had an great chat with Kacper Sulisz – from the MoMo Poland crew – about the polish mobile scene.
By the way, before this event I had a unforgettable cheese cake (Sernik Cafe Blikle – Puszysty sernik z sosem truskawkowym) and a hot chockolad in the 'Kawiarnia A. Blikle' :o)
Agenda: