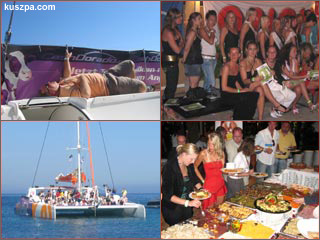 Catamaran, sea sick sailor, Miss Eurowebtainment pageant and the buffet.
On the EuroWebtainment today we had more fun than biz in the sun. The first highlight of the program was the almost 'legendary' boat tour on two catamarans, shipping along the Playa de Palma. The goal was not only to enjoy beautiful views and the sun, but also have the chance for business talks in a relaxed atmosphere.
In the evening we visit a Get2Gether Event in the MG Cafe with the finale of the Miss EuroWebtainment pageant Majorca 2007. I enjoyed the relaxing atmosphere and great buffet, but amongst others I also had the chance to have a last chat with Frank Rothgänger and Frank Kiel.