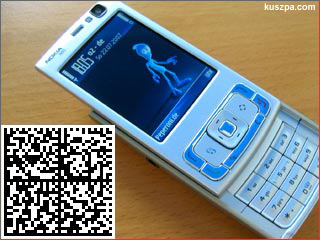 2D barcode and the Nokia N95
Some days ago I got a new toy, a Nokia N95. And it's really great. The N95 has among other things a sharp 2.6″ QVGA (240 x 320 pixels) TFT display, 5 megapixel (2592 x 1944) Camera with Carl Zeiss Optics and a built-in GPS for navigation. But you can not only take some quite good photos with it, you can also enjoy video entertainment with the RealPlayer. Unfortunately I didn't find the fast-forward button yet – it's quite hard going, if you want to look the second half of a 1.5 hour movie :o( 
Update: The fast-forward button is the "up navigation button" during the play of a movie. Thank you Richard for the hint!
The Nokia N95 also has some gimmicks like a radio, which works quite well also in a train, and 2D barcode scanner. The detection of barcodes (like the one in the picture above) is amazing easy. If you want to make your own ones, try the 2D Barcode Generator for URLs by Andreas Bischoff.
Some times the phone seems to be a little bit slow, especially the camera application. I don't know if it is due to the operating system S60 software on Symbian OS. Maybe it will be better, if I make an update of the firmware. The version 12.0.013 promises to eliminate some bugs and also to support A-GPS for a quicker navigation. But the worst thing about the N95 is the high power consumption – but no wonder, if you have the handle so much multimedia :o)