Celebrate six days long
This year I tried something new; instead of one big party like last year (my Halloween Birthday Party), I have several small events, starting yesterday and feasting on until next Wednesday. Yesterday evening I had some cocktails with Matthäus Krzykowski at the cocktail bar essence. Today I firstly had a small get-together with the neighbors, in the afternoon I got visited by family and some friends and in the evening I enjoyed a great dinner at the Casino Hohensyburg. On Sunday the party went on at the Starbucks in Bochum with family and friends, on Monday evening with more family, on Tuesday with colleagues from the University in Hagen and on Wednesday with my team at Peperoni.
Web 2.0 is great, because once a year a lot of people remember you. But to be honest, I also love the birthday reminder, because it makes life easier and it's nice to stay in touch with people easily – I am mean you have a fine excuse to connect again when you have bad conscience cause not calling or writing to somebody in ages 🙂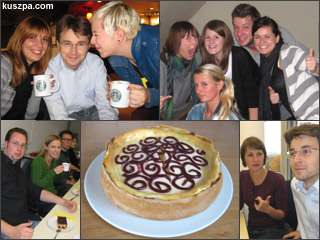 So let's have a look how good the social networks are in terms of friends remembering your birthday. At facebook.com I got 11 (7% of all my facebook friends [1]) and at meinVZ.net 18 (18%) happy birthday wishes [2] and from the VZ Team, even if I don't know them. In the business network xing.com 23 people (3 %) send me birthday wishes [3] and at linkedin.com nobody knew. Even if I still prefer face-to-face greetings I am still glad to get birthday greetings from everywhere thanks to modern information technology. And to complete the stats for this year; 12 phone calls, 2 by ICQ, 2 direct emails, 9 per SMS and a lot of personal congratulations.
[1] AMK, MK, JH, BB, RR, JL, AK, LJ, LL, UAO, OW
[2] KK, DL, AH, LF, MG, JS, LH, SX, SV, AM, DD, MK, RW, UAO, LM, RG, MM, RK
[3] BN, KH, UW, MN, JB, NK, HM, RM, CM, CM, RZ, CF, CK, MB, UT, RS, DH, PV, GS, TA, FP, JV, MMM