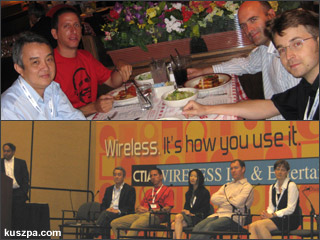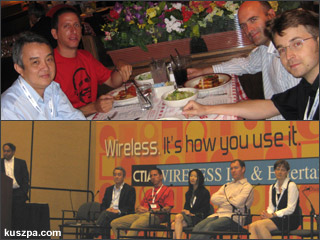 Panel on Mobile Social Networks and dinner with our combatants.
Discussion on Mobile Social Media
Today I joined the 'Mobile Web Strategies'. The event started with two presentations by Carol Taylor (Motricity) and Pankaj Asundi (Ericsson) with some interesting thoughts on virtual goods/gifts and customer segmentation. Most exciting part was the the discussion panel on  Mobile Social Networks with some of our combatants like mygamma, MocoSpace and itsmy. The whole day was full of good lectures and discussions and I got some inspiration for my own work with mobile social media. In the evening we went for the CTIA MocoMixer in the Palace Hotel before ending the day at the sky bar at the Marriott Hotel.
Agenda
Welcome and Opening Remarks from the Chair
Ajit Jaokar (futuretext)
The Mobile Web Demographic
Carol Taylor (Motricity) and Pankaj Asundi (Ericsson)
SuperSession Discussion: Mobile Social Networks
Ajit Jaokar (futuretext), Dr. Lai Kok Fung (buzzcity), Justin Siegel (MocoSpace), Sabine Irrgang (gofresh), Mei Lin Ng (mig33) and Shawn Conahan (Intercasting Corp.)
Monetize Digital Communities – How to make money in mobile and social media
Jouko Ahvenainen (Xtract) and Chris Heuer (The Conversation Group)
SuperSession Discussion: Strategies to Drive Mobile Web Adoption
Barbara Ballard (Little Springs Design), Sean MacNeill (Openwave), Patrick Lopez (Vantrix), Nitin Bhandari (Skyfire), Michael Chang (Greystripe) and Jason Spero (AdMob)
Mobile Advertising Today and Tomorrow
Ajit Jaokar (futuretext), Donna Campbell (Ericsson), Michael Bayle (Yahoo!), Tony Nethercutt (AdMob), Branden Claisse (Nokia Interactive Advertising)
Context Shifts the Internet Paradigm
Kamar Shah (Nokia)
SuperSession Discussion: Internet Giants talk Mobile – Mobile Giants talk Internet
Ajit Jaokar (futuretext), Donna Campbell (Ericsson), Dan Mason (ESPN Mobile Web), Ganesh Sivaraman (Forum Nokia Americas), Marc Davis (Yahoo!) and Edwin Aoki (AOL)
The 'full web' isn't: Mobility goes beyond the Desktop
Barbara Ballard (Little Springs Design)
Mobile Search Engines: A Discussion on Functionality, Limitations and Advantages
Bena Roberts (GoMoNews) and Michael 'Luni' Libes (Medio Systems)
Avoiding Legal Pitfalls on the Mobile Web
Gary Kibel (Davis and Gilbert LLP)
How Multimedia SIM can bring Operator Applications to Mass-Market Devices
Frédéric Martinent (Gemalto)