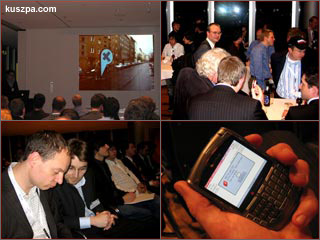 Daniel showing me international hotornot service, plazes.com lecture, networking and one not working mobile service…
Mobile Monday on Social Media
Today we went to the 2nd Mobile Monday in Düsseldorf (Ernst & Young building with a marvelous view on the Rhine. Business and Networking as usual, but also promising lectures about Mobile Social Software.
The speech from Nico Lumma, founder of mabber.com, was quite refreshing, because he also spoke about his experience trying to connect into instant messaging services of big brands like yahoo, MSN or AOL. The big ones are playing funny games by consistently changing the gateways and systems which means reverse engineering and unnecessary work for young companies trying to make the world a little slice better. mabber seems to have similar challenges like we have with some network operators. In the end Nico had to answer some "nasty questions" from the audience (e.g. Vodafone :o)
Very interesting for me was to see habbo.de for the first time. It's a "second life" for minors with 7.5 million registered users worldwide. Thorsten Jüngling, Country Manager, told us about their 2.5 million registered and 250.000 active users in Germany. Like for us, moderation of the community is a very important issue and big task. Interestingly they don't have a live moderation everywhere in place, they also work with blacklists and user activated abuse reports, but they let charitable organizations do advisory service for the youngster – also concerning community issues. Furthermore we heard about community concept, the business model behind and the plans for mobile business.
Then Felix Petersen from plazes.com had an agile speech – he is still really enthusiastic about his service. Some weeks ago I tried this location based service platform and it's quite fun to use it. And I am so glad to be ranked in the "Hot List" – #6253 with 1 Plaze discovered, 1 city and 1 country visited :o) If you are curious, you can visit my profile here: http://plazes.com/users/Kuszpa
And for the first time ever I met one jamba team member. I just had to congratulate him to the brave jamba advertising tv spots (e.g. Have it or Hate it) in the last weeks. He just smiled and said that bad publicity is better than no publicity, because everybody is talking about you :o)
My conclusion: on the event every speaker said how evil big brands are (because they try to protect their business, but who wouldn't protect his own business :o), how incredible big the opportunities in the mobile space are (welcome to our mobile world guys :o) and how wonderful it would be with no technical, legal and commercial boundaries on the mobile internet, but just having one world biggest and leading international user generated mobile web 2.0 social community network (I just love these buzzwords :o).
Comments about the event by Ossi Urchs can be found on the Mobile Monday Blog.