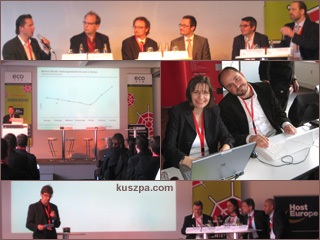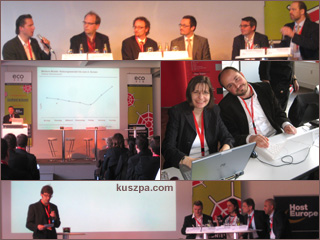 Elevator pitch, lectures, panels and the social media folks Nicole and Jürgen.
Mobile content for the next decade
Somehow I missed the first one, but today I visit the 2nd Cologne Web Content Forum 2009 with the title 'Inhalte für das nächste Jahrzehnt' hosted by eco – Verband der deutschen Internetwirtschaft e.V. After the keynote 'Web 3.0 – Wie sehen Inhalte im nächsten Jahrzehnt aus?' by Dr. Michael Granitzer (Know-Center GmbH) about the internet, semantic and next generation content, Robert Fahle (RTL mobile GmbH) opened the first panel 'Ist die Zeit (endlich) reif für mobile Inhalte?' with a short presentation. In his opinion we have now the right time and mobile content will take off. He also spoke about the suboptimal usability of mobile portals from the operators and about five golden rules – you can read more about those suggestions for mobile content on the blog freshzweinull.de (in German) by Jürgen Vielmeier. I also liked Roberts comments about the Apple iPhone; "yes, it is a trendsetter, but it is only a trendsetter". He pointed out that if you buy an iPhone, you automatically have to buy a relative expensive data flat rate, so it's not a wonder that the usage of the mobile internet with the iPhone is so high :o)
In the panel the experts discussed the question if the time is right for mobile content. Michael Nemec (Mücke, Sturm & Company GmbH) believes that in contrast to Germany mobile payment in Austria is more widespread, so the question is not about the right billing solution, but about the right content at the moment. And Christof Fromm (E-Plus Mobilfunk GmbH) said that we shouldn't always wait for some new things and solutions, but all the more use existing billing solutions for content sale, even if they are not 100 percent technically mature. Another aspect of the discussion were the learnings from the past.  Olav A. Waschkies (Pixelpark AG) spoke about parallels between the mobile industry and the past web developments, e.g. the operators seem to have the same destiny as AOL: back in the days AOL wanted to control the web access (like the MNO 'wallet gardens'), because they wanted to protect their costumers against the evil internet – and today AOL doesn't really have the importance for the internet sector anymore. Nils Hachen (denkwerk GmbH) believes that mainly the new multimedia handsets are the key for an accelerated growth of mobile content consumption. Olav added that the content itself is mostly important and Michael was the opinion that success factor is more a good interaction in the whole value chain. Furthermore I was happy to hear Olav saying that mainly web 2.0 and social networks are going to push the usage of the mobile internet – which is e.g. confirmed by the Opera State of the Mobile Web Report. But unfortunately he forgot to mention the real mobile web 2.0 veterans like us, who press ahead with a smoothly usage of the mobile web long before facebook and myspace even existed :o)
After der lunch we had an elevator pitch with eight startups; make.tv GmbH (Georg Lenzen), NetzMetz UG (Jan Sessenhausen), RichRecipe.com (Dr. Daniel Pozzi), roccatune GmbH (Constantin Thyssen), sapodo SE (Thomas Keller), produki – Schäfer Zorn Clever Maier GbR (Nico Zorn), telewebber GmbH (Heiko Seebach) and twidox GmbH (Nicholas MacGowan von Holstein). Two highlight from the show for no-go criteria in a elevator pitch: To answer the question "how big is the market potential?" with "it is hard to forecast, I have to speculate, but it is huge" and the question "how much is your license fee" with "I didn't think about this yet". At the end the jury with Ibrahim Evsan (sevenload GmbH), Alexander Hüsing (deutsche-startups.de), Stefan Keuchel (Google Germany) and Peter Knapp (Interxion Deutschland GmbH) picked the most promising company… and the winner is roccatune GmbH.
Prof. Dr. Klemens Skibicki (Brain Injection) started the third and last discussion panel about Social Networks and Data Privacy (German title: Soziale Netzwerke und Datenschutz – Widerspruch in sich?) with a short lecture. Klemens spoke about risks in virtual social networks like identity theft, phishing, no oblivion in web or easy locating of users. In the panel discussion Klaus Eck (imagecapital – the reputation network) advocate for more educational advertising and media skills, in particular for youngster; "It takes years to have a good reputation, but it takes 5 minutes to destroy it" – and it can happen everyone and so quickly (in German). Noogie C. Kaufmann (Kanzlei Dr. Bahr) spoke about risks in working life; e.g. employers  look for information about job candidates on social networks. Me too, but you can check me too :o) Thorsten Vespermann (Xing AG) recommended to establish some basic rules on social media in companies – not to forbid the staff to use social media activities, but to give them some kind of security in handling social media. Ralf Benzmüller (G DATA Software AG) pointed out  that many people don't really realize how valuable their private data is, like contact details for spammers and interests for the advertisement industry. All in all this panel was very interesting and many issues about Social Media Monitoring seem still to  be opened.
More information about the CWCF at webcontentforum.com, flickr.com and sevenload.com.