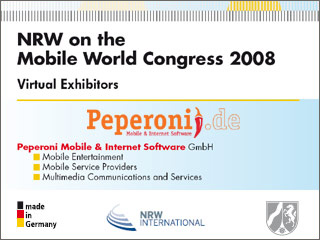 Barcelona, we are coming!
This year at the Mobile World Congress 2008 Peperoni is going to be on a joint participation booth (Hall 7, Stand G25) of the Ministry of Economic Affairs and Energy of the State of North Rhine-Westphalia, Germany, as a 'virtual Exhibitor'. But we also have a real booth in Hall 7, Stand 7A 44 – looking forward to meeting you face-to-face at the Mobile World Congress 2008 :o)
Invitation to the joint participation booth:
Welcome to NRW – The mobile power of Germany
Dear mobiles,
The Mobile World Congress is a truly unique opportunity to reach out and network. What's more, it is an opportunity to send out important messages to the international community. Although North Rhine-Westphalia (NRW) is one of the world's leading places for the mobile industry, only few insiders know about it. This got to be changed with our NRW country pavilion. Our federal state is one of the primary locations as it is home to three out of the four German network operators: Deutsche Telekom, Vodafone and E-Plus (KPN Mobile). It is also the German base for suppliers like Ericsson, Nokia and Nortel. Almost more important it is the focal point for many innovative small and medium-sized businesses in this industry. 100.000 of 140.000 people working in the German mobile sector are located in North Rhine-Westphalia and Germany is the largest telecommunications market in Europe.
Did you know that?
Our goal is to put NRW on the international mobile business map. We are presenting a range of companies showing the diversity of the mobile industry in our country. Welcome to the Stand of our country pavilion of North Rhine-Westphalia.
Dr. Bettina Horster, Director M-Commerce eco e.V.
and
Harald A. Summa, CEO eco e.V.