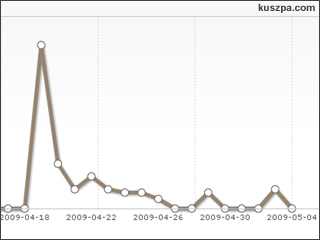 Performance Measurement is essential for success.
Email Newsletter as Growth Channel for Mobile 2.0?
If you run a mobile 2.0 business you have a lot of challenges, believe me, and one of those challenges is to find the best way to increase the customer loyalty. In this field you could for example use a regular newsletter as a handy tool to increase the customer retention in user base. But if you dip into this subject you will quite quickly realize how many aspects you have to consider to get measurable results and that there is not really a general recipe for success.
A traditional email newsletter is an approved and basically low cost method in Online Marketing to increase the Customer Retention and to push Sales Promotion. But can you als get the desired success of it from the perspective of a Mobile 2.0 Service? Many people already read their emails on the mobile phone, but keep in mind that there is still a media break which wouldn't be there if you use e.g. SMS or WAP-Push – but of course those communication channels have other limitations. During my first research browsing the web for case studies, best practices and industry statistics, I found some valuable inspiration e.g. in the presentation '8 Tips for Producing Email Newsletters' by the Strategic Learning Initiative and some field-tested newsletter in the Campaign Monitor Blog. I also found some hints like 'Tuesday's works best' and 'do not use free and $$$ in your subject' , but to be honest, I believe that at the end you have to make your own experience with your own specific user base.
But what works? I couldn't really find any useful and practical information for our mobile 2.0 specific field. For our mobile 2.0 segment we need some hard facts with real data about tested tactics in proven strategies, so we can go on improving our business in the big internet combat. I am not an online marketing expert, so I can't offer you proven best practice techniques, but maybe my first small test is valuable for you anyway :o)
To answer the question if an email newsletter can stimulate the service growth, the goal of my test newsletter will be to drive traffic into a Mobile 2.0 Service. In other cases you could also use a newsletter to build additional user base or use it for service delivery. And to make some learnings transparent and constantly improve the target achievement I will use Click Through Rate (CTR) for the performance measurement during the next tests. I know that this is not the best indicator for overall growth of a service, but I want to figure out if a newsletter is an effective instrument to mobilize your users.
My Key Findings:
There are many parameters in a newsletter that you can modify like e.g. Content, Size, Subject, Personalization, Tongue, Format, Despatch, Frequency, Number of URLs and Form of Address. For my search of the optimal newsletter for a mobile 2.0 service I decided to start with a short (max. 600 Characters) monthly newsletter in plaintext, turning on the following settings month by month:
| | | | |
| --- | --- | --- | --- |
| News | Element | Question | Finding |
| 04.2009 | Despatch | Which is the best weekday for sending? | Monday |
| 05.2009 | Personalization | Is personal addressing like 'Hi Maciej' really better? | yes, in the text |
| 06.2009 | Content | Does a question boost the result? | yes |
| 07.2009 | Content | How powerful is a call to action? | xxx |
| 08.2009 | Content | How often should you mention your service? | xxx |
Statistical overall overview:
| | | | | | |
| --- | --- | --- | --- | --- | --- |
| News | | Size/Char | | Despatch | | CTR 1 Day | | CTR 7 Days | | Replies | |
| 04.2009 | 526 | Mon-Sun | 3,22% | 4,87% | 0,72% |
| 05.2009 | 490 | Mon | 2,13% | 4,43% | 0,44% |
| 06.2009 | 496 | Mon | 2,40% | 3,64% | 0,76% |
| 07.2009 | xxx | Mon | x | x | x |
| 08.2009 | xxx | Mon | x | x | x |
Detailed description:
2009.04: In my first field test to find out which day of the week is best – in terms of the reaction quote – for sending a newsletter, I split at random my database into seven equal lists. Then I send the identical newsletter in seven different days of a week, every day at the same time of day to have a comparable basis.
2009.05: In the second field test I made a segmenting of my database into email addresses with and without known name of the recipient. The list where I knew the names I again split into two equal lists, so at the end I could run three test rounds; one with no personal addressing of the target group, one with personal addressing only in the message and one with simultaneous personal addressing in the message and the subject.
2009.06: This time I split the recipient base into two parts. In the one mailing list I ended the newsletter with a short personal question to the recipient and in the other mailing list I just leave this question out.
Back to Evolving the most Successful Online Distribution Channels for Mobile 2.0 Services.