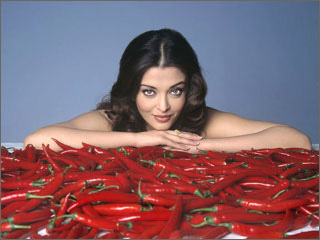 Famousness meets beauteousness, but who is who :o) 
The internet is evil, the internet is good and the internet is a fantastic treasure trove. Today we discovered the famous and gorgeous Aishwarya Rai [ ऐश्वर्या राय – wordpress.com can handle hindi letters :o] with some lovely red peperonis. She was Miss World back in 1994 and seems to be a very idolized actress in India.
Please take note that this is not my picture, I found it accidentally on the internet. Unfortunately I don't know the copyright holder, so I couldn't ask directly for permission. In case the holder of the copyright on this picture should object to publishing this picture on my blog, please contact me, and I will remove it. I just couldn't resist, because it's a peach of a picture – not only because of the gorgeous peperonis :o)
Does anyone know her official web site?