Archive for BAuA
You are browsing the archives of BAuA.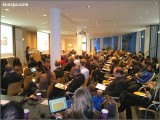 Der Mobile Learning Day 2011 an der FernUniversität in Hagen. Mobile Learning in der Praxis Der vierte Mobile Learning Day war mit fast 150 Teilnehmenden gut besucht, was uns natürlich sehr erfreute – auch weil somit das Thema rund um Bildungsangebote für mobile Endgeräte an Aufmerksamkeit gewinnt. Nach der Begrüßung und Einführung von Prof. Dr. […]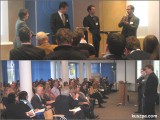 Podiumsdiskussion und Vorträge auf dem Mobile Learning Day. Austausch zu Mobile Learning an der FernUniversität in Hagen Der diesjährige Mobile Learning Day fing heute mit einem sog. Business Breakfast in Zusammenarbeit mit dem wisnet e.V. an, bei dem Ferdal Özcelik, (Institut für Arbeit und Gesundheit der Deutschen Gesetzlichen Unfallversicherung) die aktuellen Forschungsergebnisse unseres Verbundprojekts "Mobile […]
Die Initiative Neue Qualität der Arbeit (INQA) der Bundesanstalt für Arbeitsschutz und Arbeitsmedizin (BAuA) beschäftigt sich mit dem demographischen Wandel in der in Beschäftigung. Das Mobile Education Center of Excellence hat in diesem Kontext im Auftrag des BAuA einen Trendreport "Mobile Learning – Grundlagen und Perspektiven" in den Monaten September bis Novemeber 2006 ausgearbeitet.