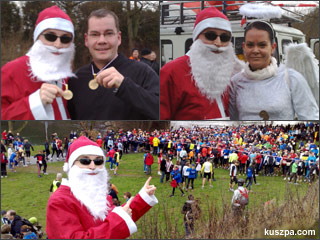 Me (truly) and the crowd, together with Oliver and Santa Claus meets Angel.
26. Nikolauslauf by Ruderclub Westfalen Herdecke
Today I took part at the 26th Santa Claus Run (Nikolauslauf) hosted by the Rowing Club Westfalen Herdecke. Every year they organise this fun run around our lake called Hengsteysee with the length of 9,6 km. Together with my teammate Oliver we needed 59 minutes for this running track and achieved places 565 and 566 (of 643 male runners – ok, it was more a fun run for us). The crowd (1,023 runners) was in good mood and we had some nice impressions on the way – not only because of my costume. For example we met an angel (Jessica Prempert) joining the run who definitely should get a prize for the best costume today and at the finish line our teammate Sandra was waiting for us, but she didn't recognise us due the costumes :o)
Some statistics for my time 00:58:59 :
Place 780 of 1,023 runners (best time 00:32:22)
Place 565 of 643 male runners (best time 00:32:22)
Place 52 of 60 in my age group (best time 00:32:53)
 But the most important thing is not to win but to take part!