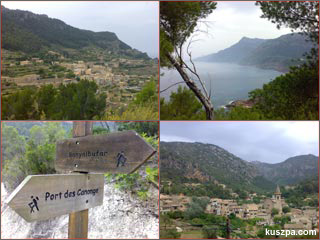 Tramp signage, Banyalbufar, Port des Canonage and Valldemossa.
This walking tour was very comfortable. On the walk from Banyalbufar (90 m MSL) to the Port d'es Canonge (10 m MSL) you only have to conquer a difference in altitude of 80 m. This charming route running along the coast (Punta Galera, Cavall Bernet, Punta de S'Aguila, Cala Corp Mari and Cala de Son Bunyola) through pinewoods is overall about 9 km.
Later on I went to the nice village Valldemossa, but there were a lot of tourists running around downtown. No wonder about that, if you have seen all of the tourists buses on the very big parking place at the city limit.