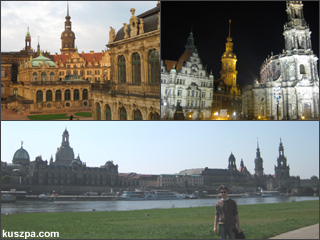 Dresden by panormaview, by day and by night.
The City of Dresden, Capital of the German State Saxony
The day before the Mobile BarCamp I had the chance to enjoy a small sight-seeing tour in Dresden. For the beginning I was inside the Dresden Frauenkirche – this church has been completely reconstructed after the war and today you had a lovely view from the viewing platform. There are also other pompous churches in Dresden like the Catholic Court Church (Hofkirche) and the Russian Orthodox Church. I also had a look at the Saxon State Opera (Semperoper), the Zwinger Palace (Der Dresdner Zwinger) and big wall painting with the Saxon sovereigns (The Fürstenzug).
If your day is long, I can recommend the saxony potato soup (sächsische Kartoffelsuppe) in the Winzerstubbe 'Zum Rebsrock' in the 'Neustadt' of Dresden, if you want to make a small break during your citytrip in Dresden. After that I went for a walk along the river Elbe passing the government district with the Ministry of Finance (Finanzministerium) and Saxon State Chancellery (Staatskanzlei) and having a great panorama view on the city. And for the ending I had a delicious dinner in the Grand Café & Restaurant of the Coselpalais which is situated at the heart of historical Dresden beside the Dresden Frauenkirche. You have to try the roasted musk duck breast with sesame dumplings (Barbarieentenbrust rosa gebraten mit Preiselbeerrahmsoße, angerichtet an Aprikosen-Lauch-Gemüse und Sesam-Schnupfnudeln) and for the dessert the home made sorrel butter milk parfait with marinated strawberries (Hausgemachtes Sauerampfer-Buttermilch-Parfait mit marinierten Erdbeeren) – yummy :o)
InterCityHotel Dresden (115) | Deutsche Bahn (76)