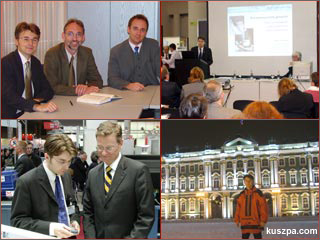 A fair presentation for Guido Westerwelle (German politician), my doctoral adviser Prof. Dr. Ewald Scherm and an old teammate, one of my lectures, and my journey to Saint Petersburg in Russia to give additional tuition for foreign students.
Time passes by so fast and today I can celebrate 10 years working at the University of Hagen. Back in 1997 I started as a student assistant at the Department of Economics and Business Administration, Chair of Business Administration, Organization and Planning. After my years of study I become a research associate and Ph.D. candidate at the same chair. Furthermore I am responsible for the Mobile Education Center of Excellence since 2002.
During my work at the University of Hagen in the past 10 years I learned quite a lot – practice makes perfect :o) Some figures: supervised 3 seminars, 4 tutorials and 10 exams, responsible for 13 exhibitions, wrote 17 publications, hold 19 lectures and mentored 26 graduands.