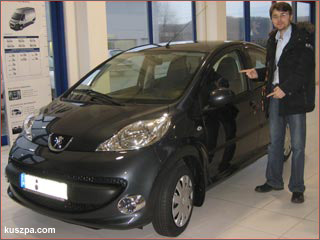 My new company car – a Peugeot 107!
Today I finally went to the car dealer and pick up my new car. It was already licensed on March 1st, 2007, but I just didn't find the time. It's a Peugeot 107 Filou 70 5 Door Hatchback in the Colour "Carlinite Grey" and with a 68 bhp (50 Kw)  strong engine. This means a maximum speed of 100 mph (157 km/h) and an acceleration 0-62 mph in 14.2 (0-100 km/h in 13.7) seconds :o)
But don't worry, it's just the beginning of a long story… now we have to pimp this little nippy city car with a cheeky grin. All steps will be documented on this blog.