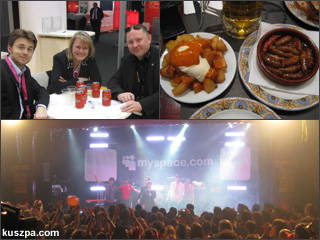 Last drinks at our booth, tasty tapas and the secret myspace party.
Great party hosted by myspace.com
Today I tried to find some 'free' time to run around the exhibition and to discover some new exciting developments. After having a last meeting this year at the Mobile World Congress – with Laurence Aderemi and Thomas Schulz from admob.com – it was time to say goodbye to the booth community and the organiser, e.g. Dr. Bettina Horster. However, the real highlight of the day was to come; Matthäus Krzykowski was gracious and took me to a secret myspace party in the town. It was a really crowded experience with great music acts. Around midnight we had a snack at the La Tramoia 2000 and that followed it was definitely time to go back to the apartment.