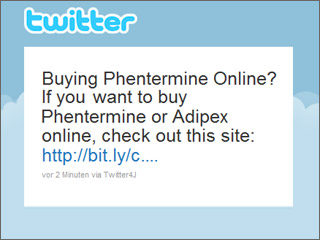 Wanted advertisement or unwanted spam tweet?
Fighting unwanted tweets on twitter
Auch twitter hat mit Spam zu kämpfen und als Nutzer frage ich mich, ob es besser ist, solche Spam-Follower drin zu lassen oder zu sperren. Auf der einen Seite sieht es natürlich auf den ersten Blick besser aus, je mehr Follower eine Person hat, was sogar für manche Top-Listen relevant sein kann, welche wiederum Dir helfen, noch mehr Aufmerksamkeit zu einen twitter-Account zu lenken; so z.B. die Gründer twittercharts (Update) von der Gründerszene zu Deutschlands erfolgreichster twitternder Gründer.
Andererseits ist es eher peinlich, wenn jemand sich ein Profil genauer anschaut und feststellt, dass überwiegend Spammer einen folgen. Bei meinen momentan 200 Followern konnte ich fünf (auf dem Profilfoto nette) Mädels identifizieren, die mir folgen; Tia, Gisela, Abigail, Trey und Astrid. Sie zwitschern allerdings nur Hinweise, wie man mehr Geld verdienen kann und wo ich billigere Vitamintabletten finde. Dieses Problem scheint aber twitter im Griff zu haben, wenn man den Statistiken über "State of Twitter Spam" glauben darf, so dass mit der Zeit wohl solche Spam-Profile bereinigt werden, weil es dann auf twitter.com heißt "Hold up! Sorry, the profile you were trying to view has been suspended due to strange activity".
Es gibt auch einige Unternehmen, die mir folgen, deren Tweets allerdings nur voll mit Sonderangeboten zu Sprachreisen oder Geschenkideen gefüllt sind. Und vor allem habe ich keine Ahnung, was Reiner Calmund dazu bewegt hat, mich zu folgen – cool ist es aber schon ;o)