Archive for Marcus Ladwig
You are browsing the archives of Marcus Ladwig.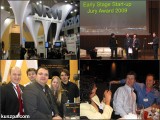 Our MWC team (Max, me, Marcus, Sandra and Matthias), our booth, MoMo Peer Awards and MoMo Dinner (Bena, Jakob and David). A very busy Mobile World Congress 2009 The first day at the Mobile World Congress in Barcelona was quite busy, but luckily I had a motivated team with me and the booth organisation was […]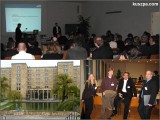 University of Frankfurt, lecture and meeting avinotec. MoMo – Mobile Marketing and Advertising Diesmal war ich mit Marcus Ladwig und Sandra Frielingsdorf (Peperoni) sowie Dr. Michael Stepping und Richard Sotke (avinotec) auf dem Mobile Monday zum Thema "Exercise in Mobile Marketing and Advertising" in Frankfurt unterwegs.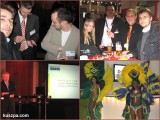 August-Wilhelm Scheer, Gabriel from aka-aki, Peperoni mates and the Olá Brasil party :o) Trade show and Innovators' Pitch And like every year CeBIT is coming and again we are going to Hanover. Before runing around in all of the exhibition halls, I went to the 'Innovators' Pitch Business' organized by BITKOM e.V. This event helps young companies to find venture […]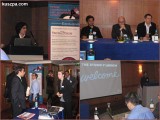 Networking, presentation Turkcell, panel discussion and presentation Virgin mobile Canada The second conference day was also full of interesting presentations, but the personal talks with other industry professionals were even more valuable for me. I had the opportunity to speak with e.g. Antony Beswick (Strategic Product Manager, Ericsson AB), Shahan Panth (Messaging and Community Portfolio Manager, […]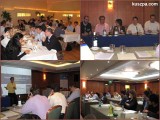 Introduction by Christine Perey, lunch, panel discussion and participants Together with Marcus I participated in an Informa conference with the title 'Mobile Communities & User Generated Content, Determine the Impact of Community Services and User Generated Content on Your Business' at Kingsway Hall Hotel in London. There were some very thrilling presentations, e.g. from Orange UK and Yahoo!, and we also […]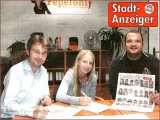 Me, Sandra and Marcus (Photo by Stephan Faber, Stadtanzeiger Hagen) Source: Stadtanzeiger Hagen, Stephan Faber, 65/2007, 15.08.2007, p. 1 Today a local newspaper called Stadtanzeiger Hagen wrote about our new apprentice Sandra, because some days ago we participated in their campaign "last minute apprenticeship training position". It was a great campaign to help school leavers to […]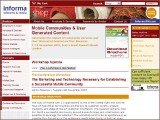 Informa web site about our workshop.  On November 9th, Peperoni will led a post-conference workshop titled "The Marketing and Technology Necessary for Establishing a Successful Mobile Community" before the conference "Mobile Communities & User Generated Content – Determine the Impact of Community Services and User Generated Content on Your Business" in London.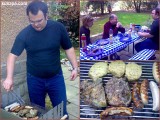 BBQ master Marcus, Bavarian beer garden and barbecue delicacy. Since some days we have incredibly good weather in Hagen. So Marcus Ladwig had the idea to open the Peperoni Barbecue Season 2007. Thanks to Marcus we had a delicious lunch in Peperoni Bavarian beer garden :o)
Thomas Bühren, Marcus Ladwig, Maciej Kuszpa und Kai Dornseiff planen die Zukunft der mobilen Netzwerke. (Foto: Michael Kleinrensing) Source: Westfälische Rundschau, 18.03.2005, Jens Stubbe, insert 'Region + Vision', p. 20 Innovationsschmiede für mobile Welten von Thomas Bühren, Marcus Ladwig, Maciej Kuszpa und Kai Dornseiff Wie sie auf Ihren Namen gekommen sind? "Das war bei Pizza […]
  Source: FernUni Perspektive, Gerd Dapprich, Vol. 1, No. 2/2002, p. 15 FernUni Perspektive: Gut gewürztes Zukunftsrezept Die Zukunft hat viele Namen: Besonders wohlklingend und geschmackvoll ist der von Peperoni Mobile & Internet Software GmbH. Peperoni, Gewinner des Hauptpreises beim Gründerwettbewerb Multimedia des Bundesministeriums für Wirtschaft im April 2002 ist eine Ausgründung aus der FernUniversität, […]