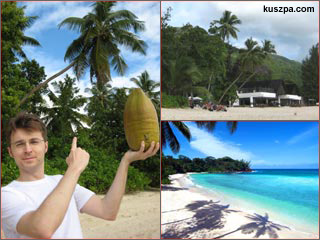 Coconut from that palm, the hotel and the beach.
My first trip to the Seychelles and the first island Mahé on my island hopping expedition in this not just another place, but another world. My housing was in the Hotel Le Méridien Barbarons situated on the west coast of Mahé and 'set amidst tropical gardens, sparkling indigo lagoons, and pure white sands. Seychelles, a magical archipelago of expansive beaches and coral reefs located just below the equator, is imbued with a rich cultural heritage and stunning natural beauty.' :o)
Interesting fact is that the Seychelles government has placed a cap on tourism growth over the next years in order to safeguard the islands for future generations. So you don't really see too much tourists running around on the over 115 islands.