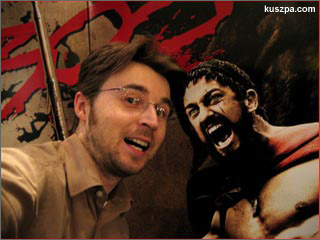 Me with King Leonidas :o)
Another great movie is the Werner Bros. production 300 – Prepare for glory! Zack Snyder (Director) made a thrilling and high action movie based on Frank Miller's graphic novel, "300" concerns the 480 B.C. Battle of Thermopylae, where the King of Sparta led his army against the advancing Persians. I saw this movie with great scenes this evening with Marcus in CineStar in Hagen.
You can find more information about this movie either on the official site or on the Internet Movie Database.