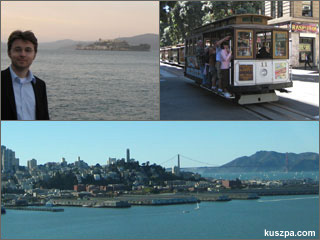 Golden Gate Bridge, Alcatraz and Cabel Car Line
Von unserem Hotel San Francisco Marriott aus, in der Nähe vom Moscone Convention Center, sind wir heute ein wenig durch die Stadt gefahren. Zunächst haben wir uns Fisherman's Wharf of San Francisco angeschaut, um später die Golden Gate Bridge von der Golden Gate National Recreation Area zu bewundern. Raus zur Alcatraz Island konnten wir leider nicht fahren, da man die entsprechenden Karten sich schon ein paar Tage vorher beschaffen muss. Aber auch von der berühmten Lombard Street hatten wir einen guten Blick auf Alcatraz.
Auf dem Rückflug hatte ich mich über den Vermerk "SSSS" auf meiner Boardingkarte gewundert, aber am Check-In-Schalter wollte mir es niemand so wirklich erläutern. Erst in der Warteschlange beim Sicherheitscheck wurde mir dann die Bedeutung von "Secondary Security Screening Selection" klar, nachdem eine freundliche Dame mich aus der sehr langen Warteschlange raus gefischt und in eine sehr kurze Warteschlange gebeten hatte. Zuerst hatte ich mich gefreut, dass ich dann schneller durch den Sicherheitscheck komme, aber dies war leider ein Trugschluss. Bis heute weiß ich nicht, ob ich in irgendeiner Rasterfahndung aufgefallen bin, oder ob es reiner Zufall war, aber solch ein persönlicher Sicherheitscheck ist schon eine Erfahrung wert.