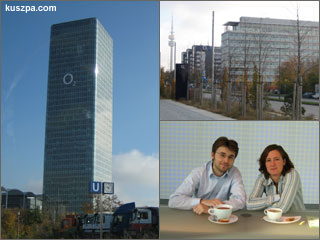 o2 Tower, 'old' o2 headquarters, Kirsten Hoffmann and me. 
Today I had a short stay in Munich for two meetings. One of them was an informal meeting with our former contact person at o2 Germany, Kirsten Hoffmann. We met in the nice reception area in their new o2 Tower for a delicious cup of orange flavoured chocolate :o)
Afterwards on my way to Athens at the Munich Airport International I had two oddities. First I met Ranga Yogeshwar (editorial journalist and moderator at WDR) in a sport-bar and later Roberto Blanco (crooner and performer) in the security check.
A short note on global business: Starbucks hot chocolate tall in San Francisco for 2,30 USD (right now around 1,80 EUR) and 5 days later for 3,30 EUR in Munich, over 80% more expensive. Update 02.11.2007: In Vienna you will get a Starbucks hot chocolate for 3,50 EUR.