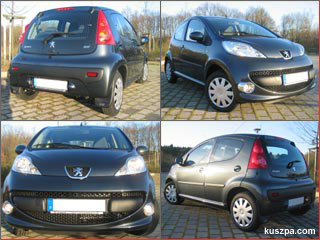 Nippy and environment-friendly…
Today I read an article in "Welt am Sonntag" (No. 10, 11.03.2007, p. 79) about cars with the slightest CO2 emissions in the world. I was happy to see that my PepCar is on the eleventh place in the environment-friendly toplist:
Honda Insight (petrol)
Audi A2 TDI (diesel)
VW Lupo TDI (diesel)
Smart Fortwo CDI (diesel)
Toyota Prius (hybrid)
Citroen C2 HDI (diesel)
Citroen C1 (diesel/petrol)
Citroen C3 HDI (diesel)
Daihatsu Cuore (petrol)
Honda Civic 4DR (hybrid)
Peugeot 107 (diesel/petrol)
Toyota Aygo (diesel/petrol)
The CO2 emissions of the Peugeot 107 is under 140 g/km. This measured value is equivalent to the commitment of the European Automotive Manufacturers for 2008.