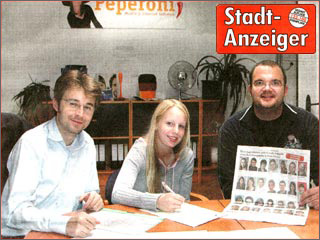 Me, Sandra and Marcus (Photo by Stephan Faber, Stadtanzeiger Hagen)
Source: Stadtanzeiger Hagen, Stephan Faber, 65/2007, 15.08.2007, p. 1
Today a local newspaper called Stadtanzeiger Hagen wrote about our new apprentice Sandra, because some days ago we participated in their campaign "last minute apprenticeship training position". It was a great campaign to help school leavers to find companies for apprenticeship.
Stadtanzeiger vermittelt ersten Ausbildungsplatz
Sandra Frielingsdorf fängt bei "Peperoni" an
Hagen. (Fa) "Wenn wir nur einem Jugendlichen einen Ausbildungsplatz vermitteln können, war unere Aktion erfolgreich!" Mit diesem Ziel ging die Redaktion des Stadtanzeiger in diesem Jahr an ihre Lehrstellenbörse. 50 Jugendliche hatten ihre Kurzbewerbung eingereicht, in der Hoffnung, noch "last minute" einen Ausbildungsplatz zu erhalten. Sandra Frielingsdorf hatte Glück und unterschrieb am vergangenen Donnerstag ihren Ausbildungsvertrag beim Hagener Softwarehersteller "Peperoni".