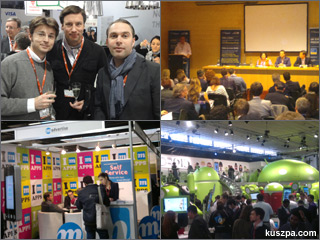 Madvertise, mit Philipp und Martin, MoMoLo Panel und Android-Stand.
App Planet – The Centre of the Apps Universe
Im Gegensatz zu gestrigen Tag, der im Fokus zahlreicher Geschäftstermine stand, habe ich heute mehr Zeit gefunden, mir auch die Fachmesse des Mobile World Congress genauer anzuschauen. Die meiste Aufmerksamkeit hat wohl der Android-Stand bekommen, der ganz schön überfüllt war, egal zu welcher Uhrzeit man dort sich aufhielt. Und auch heute kam es zu vielen zufälligen Begegnungen auf dem Messegelände mit alten Bekannten; Axel (hiogi), Malcolm (24 MAS), Felix (SponsorPay), Johannes (SponsorPay), Florian (FriendTicker), Philipp (tba: vR communication consultants), Martin (servtag), Michelle (Poynt), Helen (LAC 2.0 AS), Michael (avinotec), Daniel (M-Squad), Kasper (Sabienzia Technologies), Ilja (getjar), Patrick (getjar), Heike (Mobile Zeitgeist), Peggy (MSearchGroove), Andrew (bango), KF (buzzcity), u.v.a.
Zwischendurch haben wir uns auch die sog. MoMoLo Panel Session: Barcelona Edition 2011 angeschaut, in der unser alter Bekannter Russell (google) die Moderation hielt. Abends waren wir abschließend auf der Gomo News Blender und Smaato Party in der Incognito BAR, wo wir das ganze Smaato Team (Miriam, Sin, Petra, Harald, Ragnar, Jörg, Catherine and Markus) und viele andere Leute aus der – vor allem deutschen – Mobilefunkszene trafen, z.B. Lutz (dealzeit), Marc (Cross Travel) und Philipp (Results in Proximity). Die Veranstaltung war so gut besucht, dass es sehr schwer war nicht nur Getränke zu bestellen, sondern auch ans Essen dran zukommen – deshalb haben wir mit dem avinotec Team zwischendurch einen kleine Abstecher zum Restaurant Llantia nebenan gemacht, um an diesem Abend nicht ganz zu verhungern ;o)