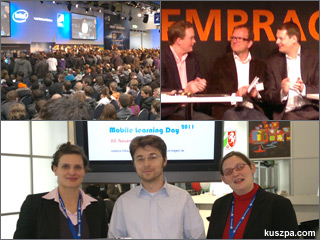 Halle 23, Sarik in Aktion und zusammen mit Christina und Almut.
'Work and Life with the Cloud'
Dieser Samstag auf der CeBIT 2011 war gut besucht – die Halle 23 'Intel Extrem Masters' übertraf wie immer alles; voll, heiß und stickig, dafür aber viel Aktion und Unterhaltung. Auf meinem Weg durch die Hallen bin ich über eine interessante Podiumsdiskussion in  der CeBIT Webciety Conference zum Thema 'Bloggen, Twittern, Facebooken – was bring's?' mit Robert Basic, Jens Hardeland, Rob Vegas und Romy Mlinzik gestolpert. In der Halle 9 besuchte ich den Gemeinschaftstand des Ministeriums für Innovation, Wissenschaft und Forschung des Landes Nordrhein-Westfalen, wo ich neben einigen 'alten' Bekanntschaften wie Manuela Markus auch das Forschungsteam von Prof. Claudia de Witt mit Almut Sieber und Christina Gloerfeld traf. Später schaute ich mir noch die Seedlounge in der CeBIT Webciety an, auf der u.a. Sarik Weber sich die Jungunternehmer mit spannenden Fragen vornahm. In Hannover hatte ich heute einen Tag voller Eindrücke und Gespräche – ein Tag auf der CeBIT reicht jedoch vollkommen aus, da vom Jahr zu Jahr gefühlt weniger Hallen besetzt sind.
(Bahn 55)