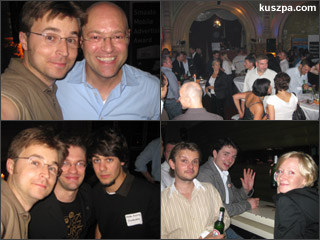 Gründerszene dudes, Harald, the location and folks at Greenwich.
Smaato Mobile Advertising Award
Tonight we joined the Smaato Mobile Advertising Award 2009 Launch Mixer at the Rodeo Berlin Postfuhramt. As usual it was great to meet some 'old' pals like Zoe Adamovicz, Stefanie Hoffmann, Bena Roberts, Marc O. Schmoeger, Sarik Weber, Christian Geissendoerfer or Russell Buckley and Andy Smith – and of course the Smaato team with Petra Vorsteher, Miriam Hoppe, Harald Neidhardt, Jörg Anhalt, Johannes Heinze, Philipp Deprez and Christian Fraude. But it was also great to meet some new folks like Joel Kaczmarek and Kersten A. Riechers from Gründerszene.de and two ladies from the german mobile industrie blogger scene – Heike Scholz (Mobile Zeitgeist) and Alexandra Fee Beyer (It's A Mobile Revolution). After the Smaato Party we went with some mobile dudes to the Greenwich Cocktail Bar.
Winter's Hotel Gendarmenmarkt (99) | bahn (138)