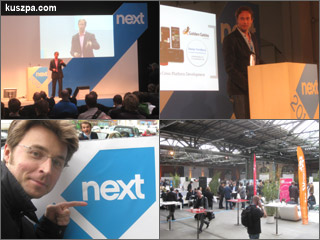 Ich, Vortrag von Per Roman und Jimmy Nordbeck sowie Ausstellungshalle.
Stop Complaining – Let's Build Kick Ass Companies
Im Vorfeld hatte ich sehr verschiedene Stimmen zu NEXT10 gehört; die einen meinten, dass es für die Veranstaltung ein Fehler war, nach Berlin zu gehen, und dass für die hohen Teilnahmegebühren außerordentlich gute Referenten fehlten. Andere dagegen waren einfach von der Konferenz begeistert, aber vor allem wegen dem Networking. Und in der Tat war ich mehr in verschiedenen Gesprächen als bei den Vorträgen unterwegs, da man auch aus der Mobilfunk-Branche viele Personen getroffen hat; Jimmy Nordbeck (Golden Gecko), Daniela Strauf (madvertise), Petra Vorsteher (smaato), Harald Neidhardt (smaato), Alexandra-Fee Beyer (Deutsche Telekom), Philipp Deprez (Results in Proximity), Dr. Florian Resatsch (servtag/friendticker), Martin Pischke (servtag/friendticker), Matthäus Krzykowski (Agora9), Harald Müller (MoMo München), Daniel Melter (MoMo München), Axel Hoehnke (MoMo Hamburg), u.v.a. Zufällig bin ich zudem an Dr. Christian Maaß (Bertelsmann), einen ehemaligen Arbeitskollegen von der FernUniversität in Hagen, geraten und hatte zum Abschluss ein sehr spannendes Gespräch zu Social Media mit der Tech-Bloggerin und Autorin Nicole Simon (mit140zeichen.de).
Bei der Konferenz konnte ich noch die Vorträge von Per Roman (GP Bullhound) "Being an Entrepreneur in the Financial Turmoil" und von Stefan Glänzer (RjDj) "Stop Complaining – Let's Build Kick Ass Companies out of Europe". Die Rede von Stefan war sehr inspirierenden und eindrucksvoll, vor allem weil endlich sich jemand vorne gestellt hat und uns wieder mal vor Augen führte, dass wir hier in Europa uns mit unseren Ideen, Köpfen und Technologien gar nicht verstecken und anderen Kontinenten nacheifern müssen.
Und Berlin ist doch ein Dorf; heute Morgen beim Frühstück in Starbucks haben wir zufällig Daniel Höpfner (tbd) getroffen und später bin ich noch über Lars Finder (YOC) in der Nähe von der Museumsinsel gestolpert.