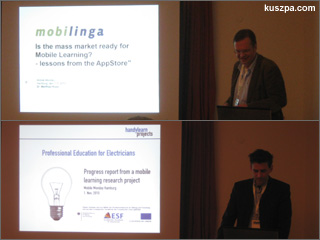 Vorträge von Matthias Kose (oben) und Karsten Meier.
How to create "mobile only" elearning services?
Zum ersten Mal wurde heute Abend das Thema "Mobile Learning" im Rahmen eines Mobile Monday behandelt. Es hat mich sehr gefreut, dass Axel Hoehnke (MoMo Hamburg) meine Anregung vor einiger Zeit aufgriff und die heutige Veranstaltung im Business Club Hamburg ermöglichte. Nach der Registrierung und ein wenig Networking, wurden ab 19:30 Uhr folgende Vorträge gehalten: 
Dr. Matthias Kose, CEO, mobilinga GmbH
Title: "Is the mass market ready for Mobile Learning? – lessons from the AppStore"
 
Harun Saritiken, Microsoft
Title: Can elearning bridge the ethnic gap? How to engage with a hard to reach but tech savvy and brand driven community!
Dirk-Hagen Macioszek, attorney at law
Title: The Legal Side Of Distance Learning
Karsten Meier, Director Handylearn Projects
Title: Professional education for electricians. Mobile learning research report
Hanno Tietgens, CEO, BÜRO X Media Lab
Title: TÜV NORD IN3D – a different kind of mobile. Avatars at work.
 
Uwe Kirschenmann, Fraunhofer-Institut für Angewandte Informationstechnik
Title: Mobile Aus- und Weiterbildung für Fahrer in der Logistikbranche
Gefreut hat es mich zudem, einige Leute aus der (mobilen) Internetbranche wieder zu treffen, u.a. Oliver Pincus (), Lutz Lengemann (), Jörg Land (), Robert Günther () sowie das smaato-Team mit Miriam Hoppe, Johannes Heinze und Michael Osei-Ampadu.
(Novum Hamburg 35 | bahn 106,25)