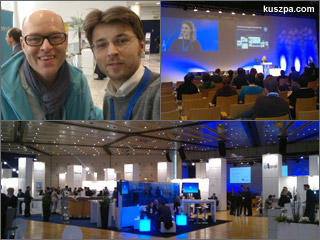 Mit Harald von Smaato, YOC-Vortrag und die Messe.
M-Days mit "Show Your App Award"
Auf den M-Days war ich zum ersten Mal unterwegs, obwohl Carsten Szameitat (11 Prozent Communication) diesen Branchentreff wohl schon zum 6ten Mal veranstaltete. Zuerst habe ich mir einen Vortrag von Antonia Neubauer (YOC) angehört, die zum Thema "Think beyond Apps: Think WebApp!" sprach. Was mir sehr gut gefallen hat war, dass ihr "Lieblingsapp der Browser ist", was sie mit dem Zitat "You don't need an App for the Web" vom Jim Balsillie (RIM) untermauerte. Da anscheinend auch YOC auf die Browser-basierte Zukunft setzt, hat sie die 'YOC Smart Web App' vorgestellt, in der ansatzweise alle Funktionalitäten aus einer App in einem Browser umgesetzt werden.
Die Moderation auf der Vortragsbühne übernahm teilweise unser alter Bekannter Harald Müller (MobileMonday) und es waren gut 80 bis 90 Zuhörer anwesend. Interessant war auch die Schnellumfrage von Harald am Ende des Vortrages, was das Publikum zum Zukunft von Apps und Web sagen; die Mehrheit meint, dass auf Dauer eher Browser-basierte Anwendungen sich durchsetzen werden, was mich natürlich daran bestärkt, dass wir seit schon 11 Jahren das Richtige tun :o)
Später hörte ich mir noch einen Vortrag von Joachim Bader (clanmo) mit dem Titel 'Hugo Boss, 360* Global Mobile Marketing Strategie – von Foursquare bis Mobile Portal' an. Joachim berichtete in seiner Präsentation von den Erfahrungen und Ergebnissen diverser Marketingaktionen in New York.
Die Messe an sich war zwar mengenmäßig überschaubar, aber Carsten hat sehr gute Arbeit geleistet, einige bekannte Player aus der deutschen Mobilfunkszene zusammenzubekommen, u.a. adesso mobile solutions, apprupt, contnet, conVISUAL, iconmobile, madvertise, netbiscuits, whatever mobile und YOC. Es waren aber auch Netzbetreiber wie z.B. E-Plus und o2 und bekannte Größen wie z.B. Microsoft, Nokia und PayPal. Es hat mich gefreut, unter den Ausstellern einige bekannte Gesichter wiederzutreffen, u.a. Annika Held (netbiscuits), Sin To und Harald Neidhardt (smaato), Lars Finder (YOC), Jascha Samadi (apprupt GmbH), Axel Hoehnke (hiogi), Philipp Deprez (Gettings) sowie gefühlt das ganze madvertise Team mit Pantelis Katsukis, Carsten Frien, Daniela Strauf, Jana Sievers, Janine Kühnrich u.a.