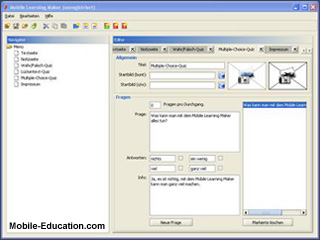 Screenshot vom Mobile Learning Maker
Mobile Learning Module leicht erstellen
Der Mobile Learning Maker ist ein Autorentool zur eigenen Erstellung von mobilen Lernangeboten – ohne Programmierkenntnisse und manueller gerätespezifischer Adaption. Bildungsanbieter, aber auch andere interessierte Personen, können mit diesem Werkzeug schnell und kostengünstig Mobile Learning selber ausprobieren und anbieten.
Die vorliegende Software "Mobile Learning Maker" ist aus einem Forschungsprojekt entstanden und wird ohne technische und zeitliche Einschränkungen zur freien Nutzung angeboten. Es wird lediglich ein fest vorgegebenes Impressum in allen mit der Software erstellten Mobile Learning Modulen automatisch integriert.
Download
Um den Mobile Learning Maker ausführen zu können, benötigen Sie die Java-Runtime-Umgebung. Falls Sie dieses auf Ihrem PC noch nicht installiert haben, nutzen Sie bitte folgende Installationsdatei:
>> Mobile Learning Maker v1.0 mit JRE (16,5 MB)
Wenn die Java-Runtime-Umgebung auf Ihrem PC bereits installiert ist, dann können Sie folgende Installationsdatei herunterladen:
>> Mobile Learning Maker v1.0 (0,8 MB)
Registrierung
Wenden Sie sich bitte an Herrn Maciej Kuszpa (Formular rechts), falls Sie Ihren Mobile Learning Maker registrieren möchten.
Fehler (Bugs) und Neuigkeiten (News)
An dieser Stelle sammeln wir auftretende Fehler und bieten Ihnen entsprechende Lösungshinweise an. Schicken Sie uns bitte eine E-Mail (Formular rechts), falls Sie etwas entdecken sollten.
Urheberhinweis
Mobile Learning Maker – Copyright © 2006 by Peperoni Mobile & Internet Software GmbH, Leibnizstr. 1, D-58097 Hagen in cooperation with Mobile Education Center of Excellence.