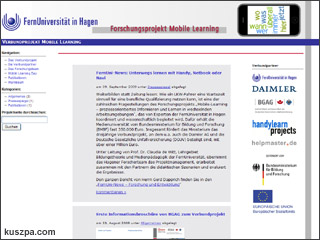 Our Mobile Learning project site.
Further development of E- towards M-Learning
Educate oneself instead of reading newspaper: How can a truck driver meaningful use queue time for professional qualification, is one of questions of the joint research project "Mobile Learning – prozessorientiertes Informieren und Lernen in wechselnden Arbeitsumgebungen", which is coordinated and scientifically supported by experts from the University of Hagen (FernUniversität in Hagen). The work at the University is financed by the German Federal Ministry of Education and Research (BMBF) with almost 350.000 Euros. Also Daimler AG and the German Social Accident Insurance (DGUV) participate in this three-year joint research project.
Under the direction of Prof. Dr. Claudia de Witt, Chair of Educational Science and Media Education, the Hagener Mobile Learning Research Group is taking care of the project management, develops didactical scenarios in co-operation with the other partners and evaluates the results.
Read the whole Media Release (in German) here…
Media Coverage: