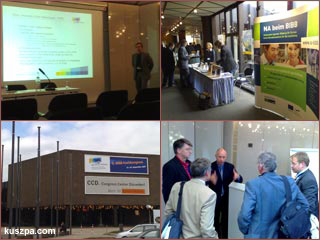 Convention center, lecture, exhibition and networking.
Today I had a lecture about 'Mobile Learning – flexible information systems for work integrated learning' at the 5th  BIBB Congress in Congress Centrum Düsseldorf. In my thematic block there was also a refreshing lecture by two apprentices from Deutsche Telekom telling about their experiences with net based learning – going to the commercial vocational school in a bath robe :o)
In the afternoons we heard two lectures by Dr. Marcus Specht, Associate Professor at Educational Technology Expertise Centre (OTEC), Open University of the Netherlands, Heerlen, Netherlands. Firstly Marcus explained what is 'Social Software'. His lecture was very rich on examples and he used general characteristics to explain the subject: Identity, Presence, Relationships, Conversations, Groups, Reputation and Sharing. I am glad, that our service peperonity.com has those characteristics – but we have to work more on the feature 'Groups'. And I also liked two buzzwords on his slides: "Mobile Social Software 3.0", because google.com doesn't know / doesn't find it (yet), and "Mobile Social Software for Learning", because it reminds me on an articel with the title "Mobile Learning Community" I started to write some months ago. During the roundtable discussions there was also an interesting comment; Many people show the great possibilities and chances with Web 2.0, but why doesn't anybody speak about the vitreous human? Nobody tells you that google.com will not forget your entries on the net – it's like a tattoo, someday you maybe don't like it anymore, but it's hard to get rid of it.
The Agenda in our thematic block was [source BIBB]:
7.3 Neue Lernkulturen und neue Medien – Herausforderungen an das Bildungspersonal
Im betrieblichen Arbeitsalltag, in der Aus- und Weiterbildung sowie in Forschung und Entwicklung manifestiert sich eine wachsende Vielfalt an Anwendungs- und Einsatzszenarien, die das Potenzial sogenannter "Neuer Medien" zur Gestaltung von Arbeits- und Lehr/Lernprozessen bis hin zum Web 2.0 nutzen. Lehr-/Lernprozessgestaltung und Medienkompetenz erhalten in diesem Kontext einen neuen Stellenwert. Die Prozessorientierung in der Berufsbildung ist z.B. ein wesentliches Merkmal veränderter Lernkultur, für die der dafür notwendige curriculare Rahmen durch neue und neu geordnete Ausbildungsberufe weitgehend geschaffen worden ist.
Die Potentiale sind weitgehend erkannt, wie sieht es aber mit dem Einsatz von Neuen Medien in der beruflichen Bildung, den dafür notwendigen Kompetenzen und Rahmenbedingungen wirklich aus? Wo sind die Barrieren, die z.B. im Handwerk und im Mittelstand nach wie vor den breitflächigen Einsatz erschweren? Welche Konsequenzen ergeben sich für das Bildungspersonal? Der Arbeitskreis 3 hat es sich zum Ziel gesetzt, diesen und anderen Fragestellungen nachzugehen und Antworten zur Diskussion zu stellen.
Programm
Block I: Neue Technologien und Organisationskonzepte im Unternehmen – Medien und Lernkonzepte in der betrieblichen Bildungsarbeit
Lernen und Arbeiten verbinden
Thomas Reglin, Forschungsinstituts Betriebliche Bildung GmbH (f-bb), Nürnberg
 
Telekomausbildung in virtuellen Strukturen gemeinsam mit der Berufsschule
Hans-Dieter Seiler, Berufsausbildung Telekom Training, Düsseldorf
 
Global Player brauchen Global Experts: MAN-Ausbildung für die Häuser im Ausland
Korina Recht, MAN Ferrostaal AG Human Resources (VP) Management Development & Training, Essen
 
Mobile-Learning – Flexible Informationssysteme für arbeitsintegriertes Lernen
Maciej A. Kuszpa, FernUniversität in Hagen
Michael Härtel, BIBB, Bonn
 
Medientechnologischer Wandel und neue Formen des Lernens: Ein historischer Rückblick und seine Konsequenzen für zukünftige Lernkulturen
Dr. Erich Behrendt, Dr. Behrendt IMK Consulting, Marienhafe
Block II: Berufsschule, Bildungszentrum und Betrieb – Wie Medien die Kompetenzentwicklung der Auszubildenden unterstützen
Block III: Web 2.0