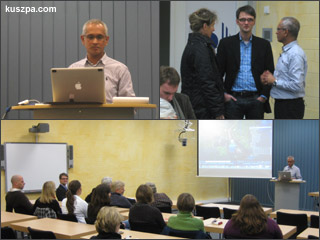 Lecture and networking.
Best practice in podcasting
By invitation from Dr. Olaf Zawacki-Richter, today Dr. Palitha Edirisingha, a lecturer in E-Learning at Beyond Distance Research Alliance, University of Leicester (UK), visited the University of Hagen. In the afternoons he hold a lecture on "Podcasting, Mobile Learning and Second Life: Some Pedagogical Applications to Support Student Learning in Higher Education". Palitha Edirisingha spoke about how to best design podcasts in courses, based on his operating experiences that he also wrote about in a book with Gilly Salmon about "Podcasting for Learning in Universities". Later on he showed us a live demo on their projects in Second Life, but unfortunately didn't have the time to tell us more about his mobile learning project called WoLF.